125 West 43rd Street
New York, NY 10036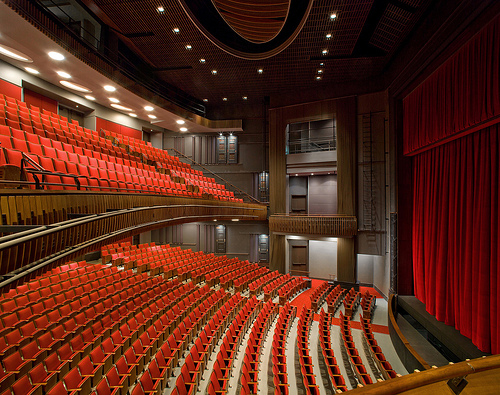 Architects Paul R. Allen and Ingalls & Hoffman designed the Stephen Sondheim Theatre in the Neo-classical style.  It was constructed by and originally named for actor-producer Henry Miller.  On April 1, 1918, it opened with a production of The Fountain of Youth.  It was the first theatre in Manhattan that had air-conditioning.  From the 1930s to the late 1960s, the theatre housed a range of famous performers, including Leslie Howard, Douglas Fairbanks, Helen Hayes, Lillian Gish, and Ruth Chatterton.  It began showing feature films in 1968 until the 1970s when it became a porn theater called Avon-at-the-Hudson.  It was transformed into the disco nightclub Xenon in 1978.
The venue then opened as SHOUT, a 1950s/1960s nightclub, on August 31, 1985, which lasted for six years.   The Roundabout restored, reopened and managed the Henry Miller Theatre in 1998 for their Tony award-winning production of Cabaret. 
Nine months later, however, the venue was forced to close because of a construction accident at a neighboring building.  The Henry Miller Theatre reopened as the first LEED-certified Broadway house in 2009 and raised the bar for environmentally maintainable design and structure of performing arts venues.  It was renamed the Stephen Sondheim in 2010 to honor the composer and lyricist's 80th birthday.