252 West 45th Street
New York, NY 10036
The Broken Shark

The sold-out, critically acclaimed West End hit comes to Broadway this summer. "Ian Shaw gives one of the most exhilarating theatrical performances of the Year" ( 5 stars, Evening Standard ), "Sensational Fun" ( 5 stars, Sunday Express ), "Do Not Miss" ( 5 stars, Sunday Mirror ), and "Absolutely spellbinding" ( 4 stars, Daily Mail).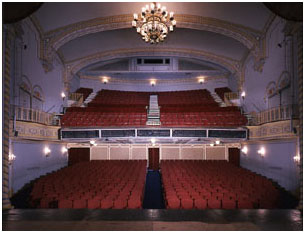 The John Golden Theatre was originally constructed in 1927 as the Theatre Masque by the Chanin Brothers.  It was part of a facility that included the Royale and the Majestic.  The Theatre Masque was the most intimate of the three theatres and was created for serious dramas.  Designed by Herbert J. Krapp, the interior has a Spanish influence.  The venue's first production, which was Puppets of Passion by Rosso di San Secondo, opened on February 4, 1927 but was not successful.  The Shuberts obtained ownership in 1930.  John Golden took on management in 1937 and renamed it after himself.  In 1946, the Shuberts regained ownership, turning it into a film house for two years.  In the late 1940s, it was renovated to house theatrical performances.  In 2003, it housed another puppet production, the award-winning Avenue Q.  The exterior of the theatre was used as the location of the movie version of A Chorus Line.  It is also featured in the classic Betty Davis film All About Eve.