1633 Broadway
New York, NY 10019
KPOP, The Broadway Musical

An original musical about the culture-shaking, pulse-pounding, star-making world of KPOP. Featuring a cast of K-pop and musical theater stars, including Luna — a founding member of (f)x — KPOP is a multimedia experience that explores the relentless discipline, raw talent, and commercial ambition behind the international sensation.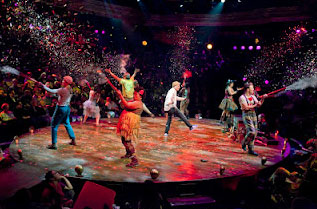 The original Circle in the Square was founded in Greenwich Village in 1951, and it did not have a theatre license.
The original Circle in the Square was founded by Paul Libin, Theodore Mann, and Jose Quintero in 1951 and was located in Greenwich Village.  They did not have a theatre license, but Quintero was able to get a cabaret license which meant the production crew and actors could also serve as waiters.  The current theatre was constructed in 1972 and set into the base of the Uris Building, on the former site of the Capitol Theatre. It serves as the home to Circle in the Square Theatre Company.  Their first production on Broadway, a revival of Mourning Becomes Electra, opened on November 15, 1972.    The theatre was designed by Alan Sayles, and it is one of the few Broadway houses to be designed "in the round."  Although not artistically striking, the lobby and the auditorium are clean and modern, and there are numerous historical photographs of the theatre's production history decorating the building.  The building also houses Circle in the Square Theatre School.