249 West 45th Street
New York, NY 10036
Bad Cinderella

From Andrew Lloyd Webber comes "a big, colorful, fun fairy-tale rewrite" (The New York Times), featuring an original story and book by Oscar®-winning writer EMERALD FENNELL (Promising Young Woman, "Killing Eve") and lyrics by Tony Award® winner DAVID ZIPPEL (City of Angels). The Telegraph calls it "a magical musical with a progressive message, brilliantly witty lyrics, and exuberant numbers—one of Andrew Lloyd Webber's best." Directed by LAURENCE CONNOR (Les Misérables, School of Rock) with choreography by JOANN M. HUNTER (School ...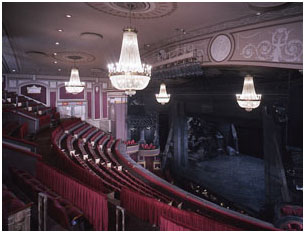 The Imperial Theatre was the Shubert's fiftieth New York venue and was constructed to house musical theatre hits.  The theatre was built to replace the Shubert's 20 year old Lyric Theatre.  The Imperial opened in 1923 with
Mary Jane McKane. 
Broadway's biggest money-maker followed in 1924 with the operetta
Rose-Marie. 
In 1926,
Oh, Kay! 
opened starring Gertrude Lawrence.  In 1938, Mary Martin made her Broadway debut in Cole Porter's
Leave It to Me
in which she sang "My Heart Belongs to Daddy." She was backed up by chorus boy Gene Kelly.  Other successes of the 1930s include the Gershwin's
Of Thee I Sing
and
Let 'Em Eat Cake,
Moss Hart's and Cole Porter's
Jubilee,
and Rodgers' and Hart's
On Your Toes.
   The building was designed by Herbert Krapp in his characteristic Adam-style.  The ceiling and wall panels are ornately decorated with numerous themes, such as floral and geometrics.  Krapp designed the auditorium to be wider rather than deeper so the audience would feel closer to the performers.