254 West 54th Street
New York, NY 10019
Days of Wine and Roses

Kelli O'Hara and Brian d'Arcy James star in a searing new musical about a couple falling in love in 1950s New York and struggling against themselves to build their family.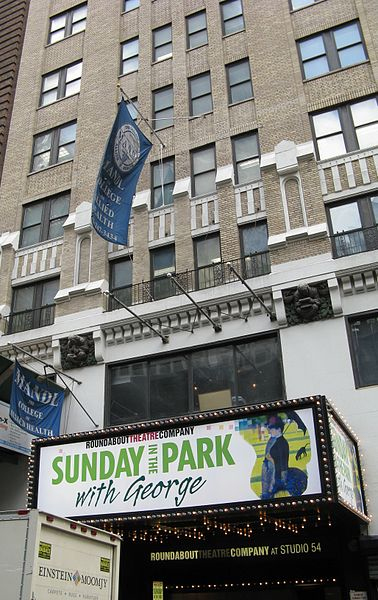 Studio 54 originally opened as the Gallo Opera House in 1927 with a production of La Boheme.  Impresario Fortune Gallo struggled financially with the opera and eventually began producing nonmusical productions such as Electra, starring Antoinette Perry.  After constant failures, the venue was sold in foreclosure after the stock market crash in 1929.  It changed names and management numerous times until 1943 when it finally began housing CBS radio and television broadcasts such as "The Johnny Carson Show" and "Captain Kangaroo."  It was then renamed Studio 52.  The soap opera, Love of Life, was produced there until 1975. The space was sold to Steve Rubell and Ian Schrager, who converted the venue into the famous nightclub Studio 54 in the late 1970s.  In 1986, the club closed and was essentially neglected until the Roundabout discovered the venue in 1998.  Their Tony award-winning production of Cabaret transferred to the venue after it ran for nine months at the Stephen Sondheim Theatre.  In 2003, the Roundabout purchased Studio 54.  The first show under the Roundabout's management was Stephen Sondheim's Tony award-winning Assassins.