219 West 49th Street
New York, NY 10019
Chicago

If there's ever a show that always seems to be ripe for a revival, it's the musical Chicago. And why wouldn't it be immensely popular? Along with offering audiences strikingly theatrical music and lyrics, the emotional rollercoaster, Chicago is dark, satirical and at times amazingly cold-hearted. Then again, the story of a married woman who murders her lover in order to help her career would have to have all of these elements, and more. Chicago is one of the finest shows ever written for the legitimate stage.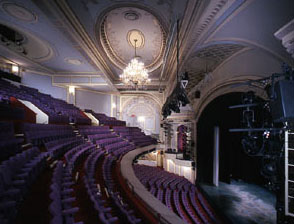 The Ambassador Theatre was designed for the Shuberts by architect Herbert J. Krapp and opened on February 11, 1921, with the musical
The Rose Girl. 
To fit the maximum number of seats possible, the theatre is positioned diagonally on its site.  As a result, stage-wing space is minimal.  In 1935, the Shuberts sold the theatre, and it was converted into a movie theatre, serving in that capacity for the next twenty years.  NBC and the DuMont Television Network then utilized the space as a television studio.
  In 1956, the Shuberts regained ownership and since that time the theatre has only housed theatrical productions.  Despite its simple external appearance, the layout inside is uniquely hexagonal.  Krapp designed the interior more ornately, using Adam-style plasterwork which was one of his favorite design themes.  It's capacity is 1,088.