141 W. 44th Street,
New York, NY 10036

Glengarry Glen Ross

Glengarry Glen Ross is David Mamet's masterful story of a cutthroat real estate office in Chicago. This version will be an all-female version of the play directed by Amy Morton.

Plaza Suite

Two-time Tony Award winner Matthew Broderick and two-time Emmy Award winner Sarah Jessica Parker return to Broadway together in the classic Neil Simon comedy Plaza Suite.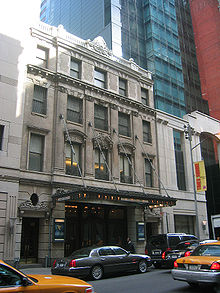 This historic treasure is one of the oldest theatres on Broadway. It originally opened in 1903, with Ethel Barrymore starring in Cousin Kate. Through the mid-1900s, it alternated as a television studio, a legitimate theater, and a rock-and-roll venue. Through the nineties and 00s, it served Millenium Hotels as an event space.
It was opened again as a Broadway venue in February of 2017, with Sunday in the Park with George. The New York Times stated that "One of Broadway's oldest surviving theaters is now its youngest."