141 W. 44th Street,
New York, NY 10036

David Byrne's American Utopia

David Byrne's American Utopia is an original blend of theater and live music from Talking Heads' icon David Byrne! Arriving on Broadway after a sold out world tour.

Sea Wall/A Life

Sea Wall/A Life features Jake Gyllenhaal and Tom Sturridge! Watch these fine actors and storytellers in this extremely limited engagement!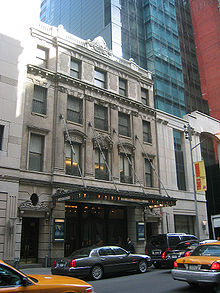 This historic treasure is one of the oldest theatres on Broadway. It originally opened in 1903, with Ethel Barrymore starring in Cousin Kate. Through the mid-1900s, it alternated as a television studio, a legitimate theater, and a rock-and-roll venue. Through the nineties and 00s, it served Millenium Hotels as an event space.
It was opened again as a Broadway venue in February of 2017, with Sunday in the Park with George. The New York Times stated that "One of Broadway's oldest surviving theaters is now its youngest."