141 W. 44th Street,
New York, NY 10036

Head Over Heels

Head Over Heels is a new musical featuring music of the 80's pop sensation The Go-Go's all set in Elizabethan times!

The Parisian Woman

The Parisian Woman is Beau Willimon's riveting play starring Uma Thurman as a charming political figure who, at a pivotal point in time, has to come to terms with her personal as well as her political life.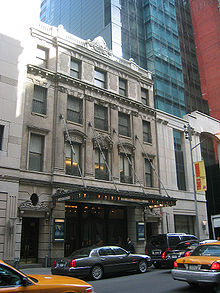 This historic treasure is one of the oldest theatres on Broadway. It originally opened in 1903, with Ethel Barrymore starring in Cousin Kate. Through the mid-1900s, it alternated as a television studio, a legitimate theater, and a rock-and-roll venue. Through the nineties and 00s, it served Millenium Hotels as an event space.
It was opened again as a Broadway venue in February of 2017, with Sunday in the Park with George. The New York Times stated that "One of Broadway's oldest surviving theaters is now its youngest."