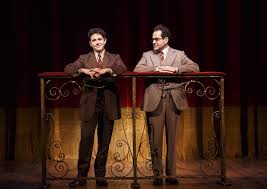 There are five plays that have been nominated for Tonys under the category of Best Play. The plays are an interesting collection. Two are based on real events/people, and the other three are created within the Zeitgeist of the 21st century and the creative minds of the playwrights. As the Tonys approach, here's a rundown on the five shows nominated for Best Play.
Act One
With Santino Fontana and Tony Shalhoub (Tony nomination) playing Hart at different times in his life, this new play by Pulitzer and Tony winner James Lapine offers us a rags to riches story, with all go the elements of humanity one might expect. Act One is a classic book about a classy guy, and the play is a real winner.
All The Way
Pulitzer Prize winner Robert Shenkkan offers us a truly insightful investigation of the human being behind the president. Starring Breaking Bad's Bryan Cranston (Tony nominated), All The Way is a revelatory exploration of Lyndon Baines Johnson, and his charismatic, flawed, and vulnerable personality.
Casa Valentina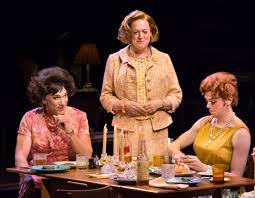 In Casa Valentina, Tony winner Harvey Fierstein zips us back to the Catskill Mountains in the 1960s to a place where white collar, professional men with families could escape for the weekend to dress as and be women. Spending special weekends in secrecy, they must now grapple with the fact that they have the opportunity, and perhaps the necessity, to go public, exposing their private world. Casa Valentina stars Reed Birney and Mare Winningham, both of whom are nominated for Tonys.
Mothers and Sons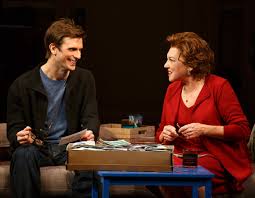 The inimitable playwright Terrance McNally offers us Mothers and Sons, a play about family, loss, and forgiveness. Starring Tony nominee Tyne Daily, Mothers and Sons is about how we must eventually move on after a devastating loss to find meaning. Four-time Tonny winner Mcnally's plays is Funny, vibrant, and moving.
Outside Mullinger
Playwright John Patrick Shanley's offers us a romantic comedy about two misfits who might just maybe fall in love. Told with humor, heart, and yearning, Outside Mullinger is the tale of two hearts finding their way home. The play stars Tony Award®-winner Brían F. O'Byrne and Emmy-winner Debra Messing. Note, the show closed on March 16, 2014.
What Play Will be Best?
What show will win Best Play for the 2013-2014 New York theatre season is tough to say. Each nominated show is a fine evening in the theatre. Be sure to try to catch at least one of these Tony nominated plays. If you're in need of group discount tickets or have questions regarding such, please contact one of the group ticket professionals at All Tickets, Inc., at 1-800-922-0716. We'll be happy to help you plan your group trip, and to secure discounts for you on anything and everything New York.