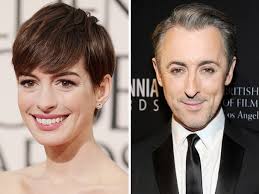 Anne Hathaway, who won the Oscar for her Les Miserables performance, is reported to be Broadway bound in the Kander and Ebb musical Cabaret. Alan Cumming, who played The Master of Ceremonies on Broadway in 1998 winning the Tony, Drama Desk and Outer Critics Circle Award, will reprise his role. Cumming is currently on Broadway performing in his one-man version of Macbeth. Hathaway will play the lead, Sally Bowles.
Cabaret Premiere
When the musical Cabaret premiered on Broadway in 1966 it made quite a stir and for many reasons. Joel Grey was a huge hit as the Emcee and the production and the production won eight Tonys, including one for Grey and another for director Hal Prince. The staging was unique for the time. When the audience entered the theatre the curtain was already up and a largew mirror was on stage, reflecting the audience sitting in their seats. There was no overture, just a drum roll to start the musical. Plus, Cabaret featured songs related to the storyline and also other songs that were basically social commentary and performed in the Cabaret. This technique combined the standard American musical theatre manner of using songs for development of plot and character and the Epic Theatre method developed by director Betolt Brecht for utilizing songs as social commentary. (This was a technique that Brecht picked up from his days as a cabaret performer in pre-World War II Berlin.
Liza Minnelli in the Film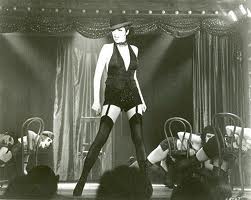 The film Cabaret, which was directed by Bob Fosse, starred Liza Minelli as Sally Bowels and Grey as the Emcee. Along with being a big hit, the movie forever connected Minelli with the character of Bowels. Minelli's Bowels, and not that of actress Jill Haworth who played the role originally on Broadway, became the standard by which portrayals of the role are measured. This Broadway debut by Hathaway looks to be big as she transitions from her Oscar-winning performance to the possibility of winning a Tony.
Hathaway in Film
It was 12 years ago that Hathaway caught audience's eyes in the Disney film The Princess Diaries. She also starred in the 2004 sequel as well as Brokeback Mountain and Havoc in 2005, The Devil Wears Prada (2006) and Becoming Jane (2007). In 2008, she was nominated for an Oscar for Rachael Getting Married and in 2012 she was Catwoman in The Dark Knight Rises.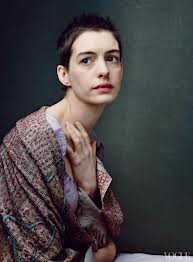 Jackman on Broadway Too?
Hugh Jackman , Les Miserable co-star, is scheduled to be on Broadway this fall too as he portrays master illusionist and escape artist Harry Houdini in a new musical. The new 2013 Broadway season is looking even more interesting with the announcement that Hathaway will make her debut. Also upcoming are Ian McKellen and Patrick Stewart in a double-bill of Beckett's Waiting for Godot and Pinter's No Man's Land.
Contact All Tickets for group sales and discounts on all plays and musicals on Broadway. We can be reached by calling 1-800-922-0716.