Clifford Odets The Big Knife is as much an indictment of 1940s Hollywood and what it can do to one's soul, as it is a play of suspense, mystery and intrigue. Actor Charlie Castle used to be an accomplished artist on the stage, but he's turned into a schlock actor willing to do the studio's bidding. He's played the Hollywood game, cheated on his wife and made his family his second-choice in life. Marion, his wife, says she will forgive everything if he'll turn his back on Tinsel Town. But can he?
Synopsis
Can Charlie Castle give up the Hollywood scene in The Big Knife? The studio doesn't want to let Charlie go. He's worth too much. His wife demands that he does. Will studio executive Marcus Hoff get his way and will his blackmailing force the actor to sign a 14-year studio deal? Charlie wants to do the right thing but finds himself caught in the middle of forces he can't control. The outcome is dark and tragic.
The Big Knife offers a compelling story about the demise of man who once possessed amazing potential, brilliant talent and a moral center. But in Odets' play all of those attributes, which had defined Charlie Castle, are gone and what is left may not be able to be saved or to survive.
MAKE A CONNECTION
ATI Blog: Watch our new Broadway group sales video!
ATI Pinterest: See our Broadway Stage board and pins here.
ATI Facebook: Take a moment and "Like" us.
SHOW FACTS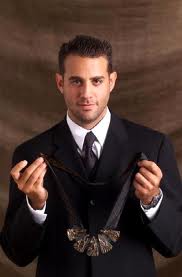 Cast
Charlie Castle Bobby Cannavale
Dixie Evans Rachel Brosnahan
Marcus Hoff Richard Kind
Connie Bliss Ana Reeder
Buddy Bliss Joey Slotnick
Nat Danziger Chip Zien
Hank Teagle Adam Rapp
Smiley Coy Reg Rogers
Patty Benedict Brenda Wehle
Russell Billy Eugene Jones
Creative
Written by Clifford Odets
Director Doug Hughes
Set Designer John Lee Beatty
Costume Designer Catherine Zuber
Lighting Designer James L. Ingalls
Original Music and Sound Design David Van Tieghem
---
For a Theatre Profile, Seating Chart and Google Map click on the theatre name.
The American Airlines Theatre
227 West 42nd Street
New York, NY
Preview: Mar. 22, 2013 Open: Apr. 16, 2013 Status: Previews, limited run closing Jun. 2, 2013