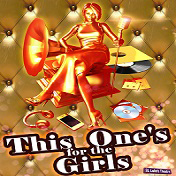 Named for the Martina McBride song, the new musical This One's for the Girls is premiering Off-Broadway on October 7th at St. Luke's Theatre. The musical is a performance of songs that empower American women and celebrate their heritage. The show's writer, Dorothy Marcic, is using a similar theme as the writing the Off-Broadway musical called Sistas which played at St. Luke's as well as theatres in Detroit and Nashville.
I Will Survive
Though there isn't much information about this production besides casting, showtimes, and some select songs, there is much more about Dorothy Marcic's other labor of love: Sistas The Musical. This musical continues to play at Luke's on Saturdays and Sundays at 4:30pm and is about five women in a family who all come together to clean out the attic of a family member who has died. As they clean out the attic, they find old photo albums, record albums, and costumes. The women sing the songs that remind them most of their deceased matriarch and celebrate the heritage of black women in America. Many of the songs in that show are similar to those of "The One's for the Girls" including "Respect" and "I Will Survive" .
Girls Just Wanna Have Fun
It has been announced that this production of This One's for the Girls will play Friday evenings at 8pm and Saturday afternoons at 2pm starting on October 7th. It will be directed by Tamara Kangas Erickson (Director of Chanhassan Dinner Theatre in Minnesota) and music directed by Zachary Ryan (Sistas Music Director). Cast will include Traci Bair (Cirque Dreams), Aneesa Folds (Ragtime National Tour), Jana Robbins (Crimes of the Heart), and Haley Swindal (Jekyll & Hyde 1997 Revival).
Have you seen Dorothy Macic's work before? What is your favorite work? Let us know on Twitter @AllTicketsInc!