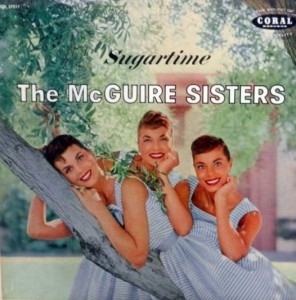 If you're looking for NYC theatre group tickets to a great show, then check out The Marvelous Wonderettes today. This Off-Broadway musical comedy is as sweet as "Sugartime." Remember that big hit by The McGuire Sisters, "Sugartime?" It was a massive success in 1958, which is when Act One of The Marvelous Wonderettes takes place.
Those who purchase New York City theatre group tickets to The Marvelous Wonderettes enjoy a great evening of entertainment that includes over 30 hit songs from the 50s and 60s. Along with the hits, that just keep on coming, groups love the fact that this Off-Broadway musical comedy has quirky, fun characters, fantastic performances, and a story that anyone and everyone can simply enjoy.
Harmony and "Sugartime"
"Sugartime" is one of the first songs sung in The Marvelous Wonderettes. The musical comedy opens with two songs made famous by the Chordettes, "Mr. Sandman" and "Lollipop" and then it goes into "Sugartime." This trio of hits gets The Marvelous Wonderettes off to a fast, positive start, as each is an upbeat pop song about love featuring wonderful harmonies.
The fourth number, "Wedding Bell Blues," changes the mood and dynamic of the musical for a bit, but not until the optimistic, feel-good energy of this hit musical comedy is well established. Along with the wonderful energy produced by the tempos and lyrics of the three opening numbers, which is topped off by "Sugartime," there are the amazing harmonies that define this type of music. Those harmonies also tell us something about the four Marvelous Wonderettes and their enduring friendships, which may run into rocky times, but never to the point of destroying the bonds that unite the four women.
Get Yourself Some Sugar Today
It's always sugartime with The Marvelous Wonderettes. When you get NYC theatre group tickets to this sweet musical comedy and experience its energy and good times, you'll want to go back and see it again. It's that much fun.
For the sweetest NYC theatre group tickets offer around contact All Tickets today. Our Marvelous Wonderettes are just $45.00 per person for groups of eight or more. For group sales, email either janet.robinson@jrgroupsales.com or info@allticketsinc.com or call 212-362-5797 or 800-922-0716.
At All Tickets, our personable and professional group sales agents are happy to answer your questions, help set up your group's entire NYC trip, including booking your pre-show or after-show group dining, and ensure you have a great time.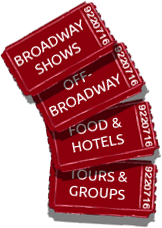 Our Marvelous Wonderttes group tickets have become very popular. January is a great time to plan your next or your first-ever theatre trip to New York. Get your New York City theatre group tickets to The Marvelous Wonderettes now. Everyone in your group will have a great time at this musical comedy, which features a hit pop music score, beautiful harmonies, and engaging characters. For more reasons as to why groups love The Marvelous Wonderettes, please see our blog from last week.
Performances of The Marvelous Wonderettes are on Wednesdays at 2:30 p.m. & 8:15 p.m., Thursdays at 8:15 p.m., and Sundays at 3:00 p.m. at the Kirk Theatre, Theatre Row, 410 W. 42nd St., NYC 10036.