One of the more than two-dozen top 40 songs in The Marvelous Wonderettes is Aretha Franklin's mega-hit "RESPECT." Those who take advantage of the low prices for Marvelous Wonderettes group tickets find themselves caught up in this exciting rendition of Franklin's anthem. The song, which features a driving beat, is all about a woman demanding a "little respect" from her man.
Franklin's Hit
Franklin's "RESPECT" charted at number one in the US in 1967. It was number two in Canada, number 10 in England and number 11 in Australia.
The song begins with a demand for "just a little bit" of "respect. But as it progresses to the end, the singer gets more and more demanding. Finally, at the end, she comes to the conclusion that if she doesn't get what she wants, then the singer will pick up and leave. As it says:

"I get tired (just a little bit)
Keep on tryin' (just a little bit)
You're runnin' out of fools (just a little bit)
And I ain't lyin' (just a little bit)
(Re, re, re, re) when you come home
(Re, re, re ,re) 'spect
Or you might walk in (respect, just a little bit)
And find out I'm gone (just a little bit)
I got to have (just a little bit)
A little respect (just a little bit)"
Marvelous Wonderettes Brings It Home
At the end of The Marvelous Wonderettes, a very pregnant Suzy takes the stage. She extremely emotional, as she worried about her relationship with Ritchie and ultra-self-conscious about being pregnant. She sings a tearful rendition of "Maybe I Know." Missy, in an attempt to bolster Suzy, sings "Needle in a Haystack." Suzy begins singing "Rescue Me," but ultimately finds strength when Missy, Cindy Lou, and Betty Jean sing "RESPECT."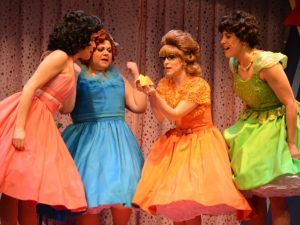 The show ends happily with Ritchie, who's running the light board for the shows, signals his love for Suzy by blinking the lights. Also at the end, Cindy Lou and Betty Jean mend their friendship and it looks like Missy is going to marry Mr. Lee. Through the no nonsense pop song "RESPECT," the woman find their way to a happy, musical comedy ending.
Get Marvelous Wonderettes Group Tickets Today
If you're looking to get some respect from your theatre group, then we suggest that you contact us for Marvelous Wonderettes group tickets. This is a fantastic Off-Broadway show at a great price. At just $45.00 per person, Marvelous Wonderettes group tickets will definitely get you a whole lot of respect. Group numbers for The Marvelous Wonderettes can be as small as eight (8)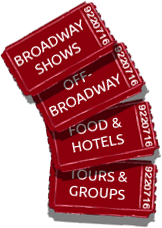 For group sales, email either janet.robinson@jrgroupsales.com or info@allticketsinc.com or call 212-362-5797 or 800-922-0716. When you contact us, please be sure to ask us about booking your pre-show or after-show group dining or any other group services you may need.
Performances of The Marvelous Wonderettes are on Wednesdays at 2:30 p.m. & 8:15 p.m., Thursdays at 8:15 p.m., and Sundays at 3:00 p.m. at the Kirk Theatre, Theatre Row, 410 W. 42nd St., NYC 10036. For further information, please see our Off-Broadway listing for this show.