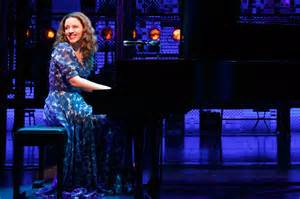 Broadway group discount tickets are a great way to see some of the most popular musicals and shows that are on the boards. Many are selling at 98% or higher. Still, if your group plans in advance you can get tickets to the hottest shows on The Great White Way. Here's a look at the top selling shows and also some suggestions for great shows that you can see if you have precious little time to get tickets.
Most Popular Shows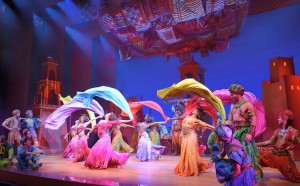 The latest figures reveal that six musicals are selling from 98.5% to plus-100% of their capacity. Those six are: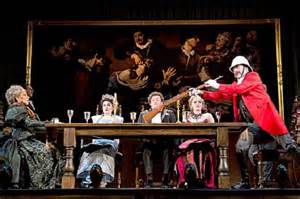 These are the most popular shows on Broadway. Three are great family fare, The Lion King, Matilda The Musical, and Aladdin. The Book of Mormon is certainly adult in nature, and A Gentleman's Guide to Love and Murder is also for the more mature. Both a rollicking, crowd-pleasing comic romps.
Beautiful: The Carole King Musical offers lovers of one of the most successful pop writers in the history of music the inside story on the life of King. The music cannot be beat and Tony-winner Jessie Mueller is a theatrical gem.
Plan Ahead
It's always best to plan your group trip as far ahead of time as possible, as this often allows you to get the best prices on theatre tickets and other products and services, such as accommodations, meals, and various events and experiences. With proper planning, you can get group discount tickets to just about any show on Broadway.
Other Broadway Shows
There are many other great Broadway shows that your group can see. These shows are going strong but are not quite topping out. Here are three to which you should give serious consideration.
Kinky Boots

Kinky Boots at the 2013 Tonys.
The Harvey Fierstein/Cyndi Lauper musical Kinky Boots, which won a slew of Tonys last year, is still going strong. This is a show about acceptance and diversity as it focuses on a young man, Charlie Price, who has reluctantly inherited a shoe factory and his developing friendship with a transvestite named Lola. Lola, who helps the factory ultimately become successful, must face a barrage of prejudice in order to gain accptance. It features numerous dynamic production numbers, an insightful book, and topnotch music and lyrics. Kinky Boots won six Tonys in 2013, including Best Musical and Best Score.
Mamma Mia!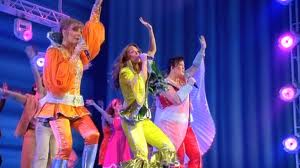 The ABBA musical is still going strong on Broadway. With 5,330 performances, Mamma Mia! is ninth on the Broadway long run list. Also, it is the longest running jukebox musical on Broadway. It features a story that combines romance and comedy nicely, and the music and lyrics work nicely with characters and plot. You'll definitely leave humming and singing the music to this one. And if you are an ABBA fan, you'll love the encore that includes cast members performing in ABBA outfits.
The Last Ship

Sting sings selections from The Last Ship at the 2014 Tonys
This new musical The Last Ship, which features a score by Sting and book by John Logan and Brian Yorkey, is about a young man who leaves the ship building and seafaring town in Wallsend, Ireland, and then returns years later to find that the town's defining industry is in extreme jeopardy. This is a musical about growth, love, commitment, values, and, above all, community. It previews September 30th and opens October 26th. Will The Last Ship be Broadway's next hot ticket?
Broadway's Best
If you're group is taking a trip to New York City make sure that you make time to see a Broadway show. If you are planning on doing so, you can save money and get great seats by contact All Tickets Inc. at 1-800-922-0716. We can also get you great discounts on restaurants, hotels, maritime excursions, museums, and everything New York.