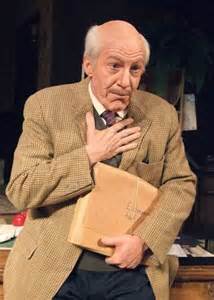 Simon Wiesenthal was a fascinating man. Physically unassuming, he certainly didn't look like someone who could bring even one criminal to justice, and, yet, he was responsible for making sure that over 1,100 Nazi war criminals were tried. After World War II, Wiesenthal, a Holocaust survivor who had lost over 80 family members to Germany's Final Solution, decided that he would spend a few years seeking justice for those who no longer could do so. Those few years turned into six decades of investigative work that yielded amazingly productive results. The new Off-Broadway show, Wiesenthal, is an insightful, witty, and passionate portrait of this complex man.
Wiesenthal the Play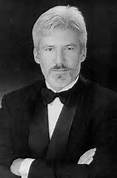 Stage, film, and TV actor Tom Dugan has written numerous one-man shows. His fascination with Wiesenthal comes from various sources, including his father's experience as an American serviceman in World War II serving in Patton's Third Army. One way that Dugan learned about the Holocaust was from his father, who was part of a group that liberated a Nazi concentration camp. Dugan also first learned about Simon Wiesenthal from his father.
Dugan, who is Irish Catholic, married a Jewish woman and, as he notes, has two Jewish sons. It's this literal and figurative marriage of Irish Catholic and Jewish cultures that helped fuel his interest in Wiesenthal. In creating the play, Dugan researched his subject matter scrupulously, working with the Simon Wiesenthal Center in Los Angeles. The result is a play that takes audiences on a journey that is dramatic, funny, tumultuous, and sincere. Wiesenthal is the story of a man who was passionate, driven, meticulous, and haunted.
He Survived Them All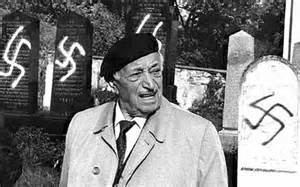 During the war, Wiesenthal, who was Austrian, was imprisoned in numerous Nazi work camps. After being liberated, he set about his quest, which was to bring Nazi war criminals to justice. At first, he worked with U.S. investigators and over time he would be associated with various organizations and governments devoted to finding former Nazis who were now in hiding. Over six decades, he endured numerous death threats, those who felt vehemently believed the past should be forgotten, and the shifting and often shiftless politics of the time.
He died on September 20, 2005 at the age of 96, about one year after his retirement. Upon retiring he said, "I have survived them all. If there were any left, they'd be too old and weak to stand trial today. My work is done." He is buried in Herzliya, Israel.
Performances Start in October

Tom Dugan in a talkback on Wiesenthal
Wiesenthal with Tom Dugan will begin previews in New York on October 24, 2014 with opening night set for November 5th. It will play at the Acorn Theatre, which is located on Theatre Row. This is a historical and biographical play about the power of the individual, moral conscience, and justice. It is introspective, moving, and inspiring. This is an important play for school students to see and can be especially enlightening for history, cultural, and theatre classes. For more information on Wiesenthal and group tickets contact All Tickets Inc. at 1-800-922-0716.