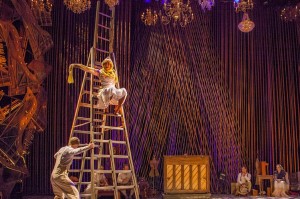 All Tickets Inc. is offering a special free ticket (comp) promotion for group ticket buyers purchasing seats for the Roundabout Theatre Company's critically acclaimed revival of the Sondheim and Lapine musical Into the Woods. Into the Woods is an Off-Broadway hit and All Tickets Inc. wants to make sure that your group gets the best possible deal on tickets. Purchase your group tickets for this production of Into the Woods at the discount rate ($79 Groups and $30 Student Groups) and receive free tickets.
Group Comp Promo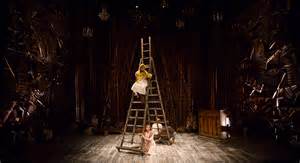 All Tickets is offering a special, time-limited group ticket sales promotion. In order to take advantage of this promotion you must purchase your group discount seats through All Tickets Inc.
The following guidelines apply:
Offer is good for the Roundabout Theatre Company's production of Into the Woods
Receive 1 comp (free ticket) for every 30 purchased
Group maximum: 4 comps (awarded for a minimum of 120 tickets bought)
Orders must be placed by February 28, 2015
Offer good for any available Into the Woods performance date
Act now on this great free ticket offer. Into the Woods will close on April 12, 2015!
Into the Woods- Reviews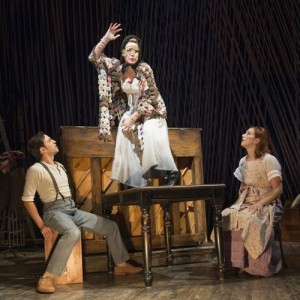 Here are just a few of the wildly enthusiastic reactions from theatre reviewers.
"TRULY ENCHANTING…Into the Woods BRIMS WITH WIT AND MAGNETIC FEELING. I FELL HEAD OVER HEELS."– Ben Brantley, The New York Times
"REFRESHINGLY IRREVERENT… Co-directors and performers Noah Brody and Ben Steinfeld steer their troupe of 10 through INGENIOUS STAGING, with CLEVER CHOREOGRAPHY and PLENTY OF ZANINESS."– Jennifer Farrar, Associated Press
"POIGNANT…DELIGHTFUL and DEEPLY MOVING REVIVAL."– Elysa Gardner, USA Today
"PURE STAGE MAGIC! WILDLY INVENTIVE, EMOTIONALLY GUT‐PUNCHING, DELIGHTFULLY OFF‐KILTER PRODUCTION… The anticipation of innovation casts a GIDDY LAYER OF FUN."– Marc Snetiker, Entertainment Weekly
The Show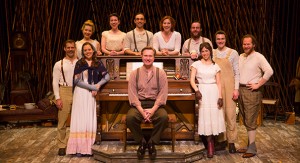 In 1988, when Into the Woods was first produced on Broadway, it won three Tonys, including Best Score (Stephen Sondheim) and Best Book (James Lapine). It also received numerous Drama Desk awards. The musical is filled with richly imagined characters, smartly written humor, and emotionally intense and honest moments.
Into the Woods takes some of the better-known fairytales, such as Rapunzel, The Baker's Wife, Jack and the Bean Stock, Little Red Riding Hood, and Cinderella, and in the first act offers audiences versions of these tales that end happily. But in the second act, there's a price to be paid for happiness, and various characters meet their demise, find heartache, and discover that the world is not as simple as first thought.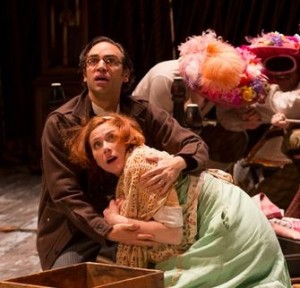 Revenge, mystery, and hatred overshadow the second act, as Sondheim and Lapine reveal that life is an amazing amalgam of wondrous happiness and hopeless strife. In the end, there is victory, redemption, and joy, and what was once thought to be simple has been revealed to be complex, and, at the same time rich.
The storytelling is witty, honest, and emotionally charged and the score and lyrics are engaging, genuine, and poignant. Into the Woods is a classic American musical that is enjoying a revival that has reimaged this work in a highly theatrical manner. (Note: this production is recommended for audiences ages 10 and above.)
Contact Us Today
Contact All Tickets Inc. today for great group discounts and comps for this amazing revival of Into the Woods. We may be reached by call 1-800-922-0716 or by clicking on this link. Remember, this free ticket promotion ends on February 28! Also, don't forget that All Tickets is running a special comp promotion for the new hit musical comedy Honeymoon in Vegas. You will find more information on this promotion here.