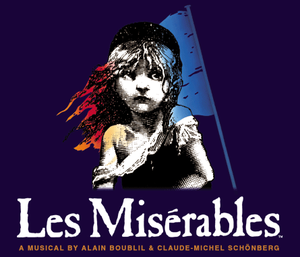 If your group is looking to see a Broadway musical that will take you on an inspiring emotional journey, then consider seeing Les Misérables. The new production of the worldwide hit musical Les Misérables, which offers big group discounts, is noted for being awe inspiring, powerful, and spectacular. The recent success and popularity of the film, the reputation of the show overall as being great theatre, and the manner in which this musical affects emotions have combined to make this revival one that is loved by audiences.
Running Strong
This revival of Les Misérables opened in March 2014, and as it nears it's one-year anniversary, it is running strong. The performances and the production and design standards won the praises of reviews and audiences. This is a first-class revival that has been honed and refined. Plus, this is not a simple reconstitution of former productions.
One of the points to bringing Les Misérables back to Broadway had to do with featuring a reimagined production. The 2006 revival, which came to The Great White Way just three years after the original closed, was considered by many to be a blurred and weak facsimile of the show that enthralled audiences for years, garnered 6 Tony wins, and ran for 16 years, offering 6,680 performances. This version has been praised for its high production standards, exciting direction, and fine performances.
Characters, Story and Music and Lyrics Are Moving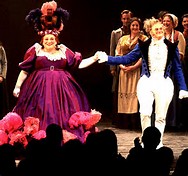 If you're looking for a story that is filled with emotional character- and plot-driven twists and turns, then Les Misérables is certainly your show. The emotional journey of Jean Valjean is all encompassing. In addition, the charged motivations of characters such as Javert, Fantine, and Cosette, are completely engaging.
The plot is complex; yet, it is also clearly and cleanly delineated as one story intersects with another, and then another intersects with that one. There's plenty of comedy and drama in this musical.
The music is monumental. It reaches great heights at times, and at other times offers subtleties that are intriguing. The lyrics in numbers such as "I Dreamed a Dream" and "Who Am I?" go right to the emotional essence of a character, while a number like "Master of the House" gives us the comic relief we desire in a musical that focuses on vaulting emotions and tragedy, while offering hope.
Hope is Ours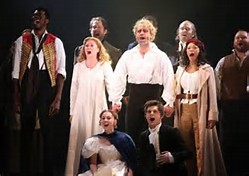 Despite all of the heartache in Les Misérables, there is hope through redemption and love. That is the final part of the journey for Valjean and for us. It is inspiring and emotional. Les Misérables has the potential to be a great evening in the theatre and this revival gives audiences that and much more.
Student group prices are as low as $37 per ticket and the standard group price range is from $37 to $125. All Tickets Inc. can get your group great discount seats to see this latest revival of Les Misérables. For group discount tickets, contact us today by calling 1-800-922-0716. We'll be glad to help you book your group's sojourn to the Imperial Theatre to see one of Broadway's most powerful productions.