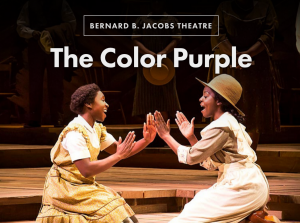 The Color Purple has returned to Broadway since its original production in 2006 that earned it eleven Tony Award nominations! The original production, based on the 1982 novel by Alice Walker, starred LaChanze as Celie, Brandon Victor Dixon as Harpo, Felicia P. Fields as Sofia, and Renee Elise Goldsberry as Nettie. The new production is showcasing some incredible stars such as Jennifer Hudson as Shug Avery, Cynthia Erivo as Celie, and Orange is the New Black star Danielle Brooks as Sofia. This production opened on December 10th and is sure to continue to move audiences nine years after its birth.
The Story
Celie(Erivo) and Nettie(Joaquina Kalukango) are two young, African American sisters growing up in 1909 with their Pa in rural Georgia. Impregnated by her father for the second time, 14-year old Celie must give up the child to her father who says he's "getting rid of it, same as the last one." A while later, a man in town named Mister(Isaiah Johnson) is looking for a wife and wishes to marry Nettie. However, she is too young and has dreams of becoming a teacher, not a wife. Celie is given to Mister and must learn how to be his hard-working wife on the farm taking care of his many children, born of his late wife. After an altercation between Mister and the visiting Nettie, Mister throws her off his property and tells Celie they can never see each other again.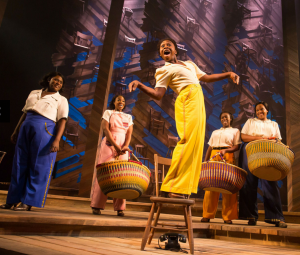 Celie suffers for many years alone under the cruelty of Mister until his eyes become set on Shug Avery(Hudson), his old lover, returning to town. Shug lives in the house with Mister and Celie to recover from alcoholism and ends up teaching Celie that she has more strength than she knows to fight the negative influences in her life. This story highlights the experience of black women in a time in American history when they were chastised for being black and feminine.
The Musical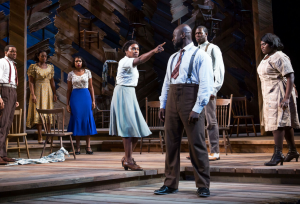 After three national tours and a London production, this musical is back on Broadway and ready for a reboot with some interesting characters. Based on a Broadway review on TheRoot.com, the male characters differ a bit from the book telling of the story: "the book was highly criticized for its lack of positive black male characters, but the play has softened and fleshed out both major male figures. Harpo, who is played by Kyle Scatliffe with just the right amount of humor, is a man who wants a woman as a partner, not a servant. Mister, the tyrannical force in Celie's life, is given a redemptive end and is played well by Isaiah Johnson." This particular telling of the production seems to be embracing the complexity of the individual characters and reflects the style of musical theatre we're currently seeing elsewhere on Broadway.
Go See It!
This show is open and ready for viewing right now at the Bernard B. Jacobs Theatre on 242 West 45th Street. You can enjoy the vintage sounds meshed with the bombastic Jennifer Hudson sound in this novel classic until it leaves Broadway again. It should be interesting to see how this musical fares as a revival at the Tony Awards next year.