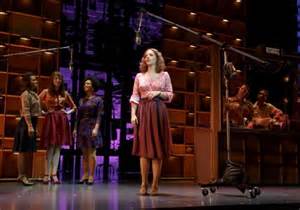 If your group wants to see a good-time Broadway jukebox musical, there are some wonderful shows on The Great White Way. Each one delivers a fine and engaging evening of entertainment. Let the memories, good times, and comedy (always mixed with drama) roll. Consider booking group tickets for these shows!
Beautiful: The Carole King Musical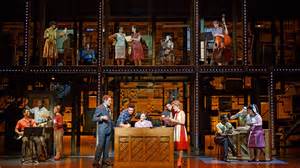 It is the story of one of America's greatest pop songwriters, Carole King, and her journey, which includes fame, fortune, marriage, motherhood, and divorce. Jessie Mueller won the Tony for Best Performance by an Actress in a Leading Role in a Musical for her portrayal of King, and she is singularly magnificent.
Hit after hit rolls out in Beautiful: The Carole King Musical, which is a truly uplifting jukebox musical. Included are "Will You Love Me Tomorrow," "Up on the Roof," "So Far Away," and "You've Got a Friend." How did King come to be such a major force in American music; what made her so special; and how did she manage to survive in the cut throat world of American pop music? Celebrate the life of one of America's great artists.
Mamma Mia!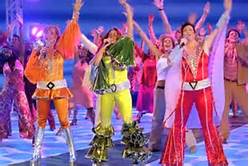 The ABBA jukebox musical recently celebrated its 5,400th performance on Broadway. It's been running more than a dozen years, and Mamma Mia! is still going strong. The story focuses on a young girl, Sophie, who is getting married on the isolated Greek Island where her mother, Donna, lives. Sophie has a hunch of whom her father may be (she knows it is one of three possible men), and having never met her dad, she invites all three to the wedding. The three show up, as do two of her mom's longtime girlfriends, and the comedy, drama, and music ensues.
Funny, heart warming, sexy, and dramatic, Mamma Mia! is a great evening in the theatre. Hit songs by ABBA include "S.O.S.," "Dancing Queen," "The Name of the Game," and "The Winner Takes It All." Plus, every performance includes an ABBA encore of "Mamma Mia," "Dancing Queen," and "Waterloo."
Jersey Boys
They created a unique sound that made them stars; they were four guys from Jersey and they were known as The Four Seasons. Eventually, they became known as Frankie Valli and The Four Seasons. Along with Valli, the group included Tommy DeVito, Bob Gaudio, Nick Massi. How did these four guys from the same neighborhood become mega stars, and what did stardom do to them? Jersey Boys offers audiences insights into The Four Seasons and, with its documentary style, makes you feel as if you're on the ride with them.
There are endless hits, including "Silhouettes," "Earth Angel," "Sherry," "My Eyes Adored You," "Let's Hang On!," and "Working My Way Back To You." Jersey Boys is filled with drama, humor, disappointment, triumph, and the hallmarks that make friends, ultimately, friends.
Get a Group Deal
If you have a group of 12 or more, or you'd like help creating a group, for one of these three hit jukebox musicals or any Broadway or Off-Broadway show, contact All Tickets Inc. at 1-800-922-0716. We'll be glad to help you get the best seats in the house at the lowest price possible.