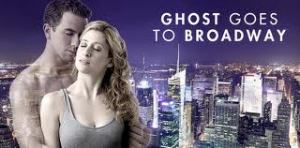 Ghost The Musical may be just into its second week of previews on Broadway but in London it has been running long enough to have sold a total of 400,000 tickets! Today it was announced that the London show is now offering tickets through April 30, 2013. There are also plans for productions in Holland in September 2012, Australia and Germany in 2013 and Korea in 2014.
This musical is proving to be amazingly popular. In an earlier blog, I offered five reasons for that. In this blog, I'm going to expand upon some of those reasons as to why this show is becoming a smash hit around the globe. For those with groups of 10 or more there's great news! You can book your seats now at a great price and see the original Broadway cast including the two leads who created their roles in the world premiere—Caissie Levy (Molly) and Richard Fleeshman (Sam).
The "WOW" Factor
What is the "WOW" factor? It's the various aspects of Ghost The Musical that make people say "wow," that is that impress and excite audiences. Every hit show tends to have a few of these and they can vary a lot.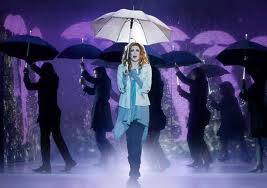 Ghost The Musical has quite a few more than most shows. These include the projections and videos, production numbers, illusions, story, music, orchestrations, scenery and lighting and performers.
The projections and videos are a major scenic element as they utilize their power by towering above the scene and filling the stage. But these are not just used for the sake of spectacle, they are part of the story-telling process and also a major factor in creating the rush and swirl of big city life in the Big Apple. The Wall Street scenes are fantastic and "Rain" is mesmerizing.
The illusions likewise are truly entertaining and beguiling as someone dies and rises from their body, as a letter folds up magically in Molly's hand and as Sam passes through a wall, but they are also a part of the telling of this romantic and endearing story. They are not used primarily for their "wow" effect; they are intimately linked to the progression of events in the musical.
The music and script combine to create what is an enthralling love story that asks, "What if you had one more chance to tell someone you loved them? What would you do?" Told from the perspective of the ghost, this unusual story utilizes a range of dramatic and music genres. Combined with the acting, given a through line by the orchestrations and enhanced and supported by the various design elements all of these aspects come together to create on major WOW of a production.
Bringing It Together
Connecting every aspect of Ghost The Musical is Matthew Warchus, the Tony and Olivier Award winning director. It's his vision that started to form what was an Academy Award winning film script into a musical for the West End and Broadway. He had many challenges and one of the primary ones concerned how to make what was in essence a four-character story fill the legitimate stage.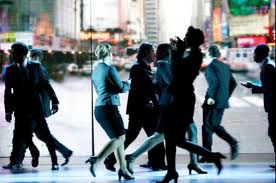 He did it in many ways with the primary one being that he decided to offset the three- and four-character scenes with big production numbers that captured the hustle and bustle of New York City. In a way, these numbers were a lot like the Odes in a play from ancient Greece. They became more about commenting on action and creating mood and ambiance and reinforcing emotion than about defining character relationships or progressing the plot.
It was a bold choice that paid off as the crisp, angular rock video choreography of Ashley Wallen captured the exact feel that Warchus wanted. For Wallen, who had worked with everyone from Hugh Jackman to Mariah Carey on commercials and rock videos, it was his first stage musical. But as the choreographic member of the creative team, he didn't miss a beat. And when his dance numbers are combined with other elements such as the video and projections, music (of course), lighting and more Ghost The Musical dazzles.
Hot Tickets
Hot tickets can be tough to get and Ghost The Musical is one hot ticket in London and it is starting to be one in NYC. The Tweets are fantastic on the Broadway production and audiences are giving it standing ovations. Group tickets are a great way to secure seats and save money. Call All Tickets Inc. at 800-922-0716 to get great group discounts on this show and others or click here to be directed to the ATI site. By the way, All Tickets will have a SPECIAL OFFER for Ghost The Musical soon. Be the first to find out about what that unique and exclusive ATI</em> deal will be the best group deal in town by signing up for our Tweets.