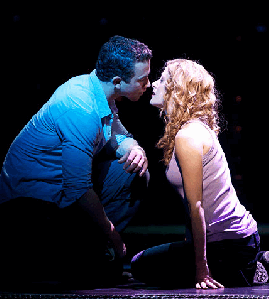 Should your group make reservations to see Ghost The Musical? All Tickets Inc., which offers its clients THE TOTAL NEW YORK EXPERIENCE, sees Ghost as the TOTAL MUSICAL THEATRE EXPERIENCE. There are many things that make this show immediately appealing to audiences. In this blog, we'll talk about the awesome Virtual Reality Stagecraft, the comedy and drive of medium Oda Mae Brown and the fact that this live version connects in a manner that film cannot.
One thing that Ghost The Musical has that many musicals these days do not have is a truly fine story. It is very modern as it zips along like an express train, on a trajectory that is at warp speed, and yet it takes the time to make the highly dramatic, intense moments in the story truly memorable. Ghost The Musical is definitely a 21st century piece.
But, and this is something that those at All Tickets who have seen the London production were impressed by, it also harkens back to the Golden Age of the American musical. Why? Because it is based on a source that is rock solid when it comes to storytelling—Ghost the movie, for which writer Bruce Joel Rubin won the Oscar for Best Original Screenplay. Rubin, who knows this story better than anyone else, has written the book for the musical, and it's a winner.
True Love & Dramatic Death
Ghost The Musical is the story of Sam and Molly, who although quite different from each other, are in love. Their love is deep, profound and passionate. Both have a lot going for them and when Sam loses his life during a mugging, the loss is overwhelming for Molly. But this story is not as simple as a woman mourning the loss of her love.
There are complications and one of the biggest concerns Sam being set up by coworker Carl Bruner. Bruner has had his associate, Sam, murdered because he realizes that Sam is onto his illegal activities that include embezzling from the company.
Loss and Longing
The loss and longing over Sam's death nearly crushes Molly. At the same time, Bruner believes that Molly may have information that he needs, that Sam found, which can put him in jail. He's determined to get it even if it means having to harm Molly.
Sam realizes this and undertakes what seems to be an impossible challenge—to contact and warn his love from the grave. His journey back is an arduous one.
Making His Way Back
Sam has to learn from others who have passed over and he must try to utilize the services of medium Oda Mae Brown. Brown is a charlatan who eventually becomes an effective connector between this world and the afterlife. In what is a tense, taut and tremendously dramatic conclusion Sam saves Molly and Bruner gets what is coming to him.
Unchained Melody
The song Unchained Melody defines the love between Molly and Sam and that tune serves to once again reunite the couple for one last passionate moment. The book to Ghost The Musical offers audiences more than just one type of story. Unchained Melody and other aspects make is a beautiful romantic tale about enduring love. Oda Mae Brown helps to ensure this musical's plot is also comedic. And the Bruner-Molly-Sam triangle is the catalyst for a very fine murder mystery/thriller.
Taken together these three types of tales/techniques help to ensure that the book of Ghost The Musical is rich, exciting and always interesting. This is a story that offers us fantasy, romance, comedy, violence, justice and much more. In other words, it has great appeal to a cross section of theatergoers.
All Tickets Group Discounts and More
Ghost The Musical is selling now and it will sell quickly partly due to the nature of its story. For more information on Ghost The Musical or to book your group of 15 or more, contact All Tickets Inc. at 800-922-0716. For more information directly related to discounts for Ghost The Musical, which offers group tickets for as little as $57.00, click here.
Also, only All Tickets Inc. is offering comps with group orders. For every 30 tickets purchased, up to 120 per group, you'll get a comp ticket (up to four). Combine that with the group ticket prices and you're saving some major cash.
By the Way, be sure to sign up for All Tickets Inc. Tweets. Simply log on and then go to All Tickets Inc. and become a follower. You'll receive daily information from All Tickets Inc. that includes special offers, interesting information on shows, performers and more and important reminders. Sign up today to get All Tickets Inc. Tweets.
Next Smash Musical Hit
Ghost The Musical looks to be the theatrical event of the 2011- 2012 Broadway season. For more information on these special offers or to book your group of 15 or more, contact All Tickets Inc. at 800-922-0716. Stay connected with All Tickets Inc. through Twitter and our blog. If you're not already subscribing to our free newsletter, please go to our website and fill in our exceptionally short subscription form found near the bottom of the page.