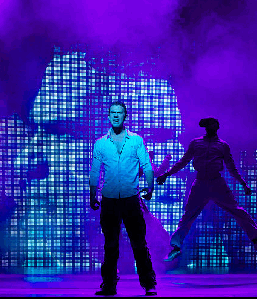 As Ghost The Musical prepares for its New York premiere this March, people are wondering exactly how the production is able to offer such an effective and dynamic rendering of scenes associated with the movie. How do you capture a film and put it on the stage? How do you make the most of what film has to offer and combine it with and exploit the power of live performance? That's one question that the creators of Ghost The Musical had to deal with as they prepared and planned for the stage version.
The solutions they came up with are quite extraordinary. The scenic and lighting elements combine to create an amazingly powerful experience that greatly affects audiences and has helped to make this play the latest smash hit musical in London's West End. Once you see Ghost The Musical (for a preview video click here), you'll want to see it again for many reasons, one of which is the true entertainment value you get by purchasing Early Bird Discount tickets for as little as $59.00 for the upcoming New York premiere. You get so much show for so little money!
Wall Street, Subway and More
Take a look at this video and you're going to see some truly amazing effects created. Known as Virtual Reality Stagecraft, it includes digital video, stereoscopic 3D projection, motion capture, and real time virtual reality navigation. The effects are tremendous and amazingly advanced. In this show, the Wall Street surrounds the chorus of workers with walls of stock quotes and the NYC subway scene is visually and aurally stunning. These used to be referred to as "projections" less than five years ago. But they are so much more than that. They can have as much of as impact as any other element and they allow designers to utilize time, space, image and sound in ways never before imagined.
Lighting the Way
Ghost The Musical utilizes lighting design in a detailed manner, reinforcing ambience, emotion and character. Sculpting, moving, defining space and reinforcing and delineating various worlds, places and forms of existence, this design element creates a texture that is detailed and finely tuned.
The Design Team
Some of the design team includes Hugh Vanstone (Lighting), Jon Driscoll (Video and Projection), Bobby Aitken (Sound Designer), Paul Kieve (Illusionist) and Rob Howell (Designer). Each is a first class specialist with not only an array of credits but also a dedication to being on the cutting edge.
New Deal from All Tickets
All Tickets Inc. is always looking to offer value to its customers. With that in mind, All Tickets is offering comp tickets to groups for Ghost The Musical. For every 30 tickets a group buys, they will receive one comp ticket (up to 4 per order). This offers is ONLY available through All Tickets Inc. Plus, the first 20 groups who book 50+ tickets at Early Bird Special prices with All Tickets Inc. will receive a free CD recording of the Ghost The Musical cast album. The Early Bird Special prices range from $59.00 to $89.00 a ticket and are good until November 30, 2011. After that date the Standard Group discount rates apply to all sales.
To find out immediately about these and other offers simply become a follower of All Tickets Inc. on Twitter. Sign up for our Tweets by November 24, 2011 and you'll qualify to win one of ten $20.00 gift certificates to Playbill.com's online store. To follow us simply go to Twitter, sign in and then search for AllTicketsinc and once on our page choose to follow us. All Tickets Inc. offers groups THE TOTAL NEW YORK EXPERIENCE and great value too!