Ghost The Musical held a very different event last night. Under the name Ghost Light Sessions, the event was an invite only held at the Lunt-Fontanne Theatre. It was a rather raw but honest presentation of the show that featured the performers and had all of the creatives, producers, etc. in attendance. The audience sat on the stage with the performers and in the mezzanine.
All Tickets Inc. in Attendance
Some of the folks from All Tickets Inc. were lucky enough to be in the theatre and sit on an extended stage with the producers and talent. They saw the performances up close and personal and although they had seen the show in full production in London, they were super impressed by this bare bones presentation.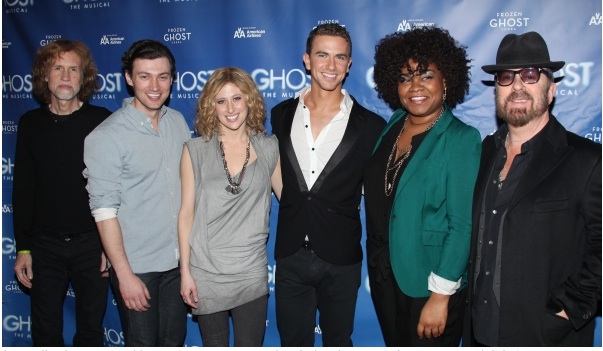 After the event, Kevin Friel from ATI wrote in an email to a colleague who unfortunately could not make to Ghost Light Sessions, "Wow – what an evening! Wish you could have been there. We were fortunate to sit with Producers and Talent on an extended work stage, as a better part of the participants sat in Mezzanine Balcony. Just a stunning presentation, while it was raw, it was honest and absolutely filled with feeling. It was a rare opportunity that you get to sit with such great and diverse talent; everyone was there and just ecstatic. Absolutely enjoyed the evening."
Honesty in Performance Essential
The interesting thing about theatre is that the very nature of it being live means that performers must be open and honest. Although Ghost The Musical has amazing production values, it has something that the greatest scenery, special effects and great illusions cannot give it—a soul. That soul is born from its truthful, open acknowledgement that eternal love, true goodness and genuine humanity exist and can triumph.
These themes are found in every element, including the book, music and lyrics. This is a romantic and passionate piece of theatre.
More on the Ghost Light Sessions
We'll have more on the Ghost Light Sessions soon. We expect to be posting some video and offering more insight into the evening and the upcoming Broadway debut of Ghost The Musical. Previews start the middle of March and the show opens in April.
All Tickets Inc. has an exclusive COMP Promotion through March 31. Book your group through All Tickets Inc. (with tickets starting at $57.00) and for every 30 paid, you'll receive a comp. (Up to 4 per order.) For more information call ATI at 800-922-0716. You may also access our website by clicking here.