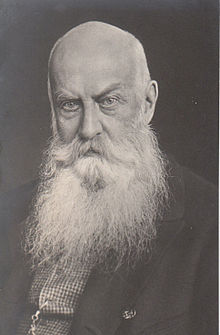 Director Matthew Warchus, who won he latest Olivier for his direction of Matilda, is also the director of Ghost The Musical, which is currently running on Broadway and in London. All Tickets sat down with Matthew, who is also a Tony-winner, and discussed directing and theatre. It was an enlightening conversation as we discovered how one of the most successful young stage directors sees his job and the effect of theatre on audiences. First, we offer a little background on the first modern-day theatre director. You see the formal position of stage director is a relatively new one.
The Director in the Theatre
Although there seems to have always been someone in charge of a production (even 2,500 years ago back in Ancient Athens) the formal position of director (that person whose vision you see on the stage) was not created until the late 19th century. The first director of the modern age was a nobleman—the Duke of Saxe-Meiningen, George II.
George II was extremely interested in theatre. So much so that he created his own theatre company and directed them. George II was the first person that we know of who coordinated all elements of a production and created a unified vision for a stage production. He took every element into consideration. Although his Meiningen Players started out as an ensemble that performed before the court, they eventually toured the world and became extremely famous.
In fact, they are the company credited with inspiring a young actor named Stanislavski to re-envision acting, directing and the theatre in Russia. He had seen the Players twice when they toured Russia and was amazed at the ensemble nature of their shows and the historical accuracy of the productions. Stanislavski would not only transform theatre and acting in Russia, but his Method would change acting in the US, influencing major directors and actors from the early part of the 20th century on.
What is Directing?
Matthew Warchus has a unique vision of his job. When you speak with him, it's clear that he thinks on multiple levels simultaneously and also has the ability to isolate each thought, develop it and then put it back into the mix of about which whatever he is speaking. From All Tickets Vimeo vault, he's Matthew on the art of directing.
[vimeo vimeo.com/39089099]
How Do You Become a Director?
The director of Matilda also offers some helpful advice about how young people who are interested in directing can get started. He also provides some insights into personality types that he feels lend themselves to the job of directing, which is a lonely one despite the fact that the director is constantly in communication with everyone involved in the show.
[vimeo vimeo.com/39090491]
The Effect of Theatre
Theatre is an art form that has a unique effect on people. What is that effect like? Matilda and Ghost The Musical director Matthew Warchus provides his ideas on this subject.
[vimeo vimeo.com/39091887]

Matilda The Musical to Broadway
Matilda will be on Broadway starting in April 2013. Right now All Tickets has an Early Bird Offer that includes group discount tickets and a COMP PROMO. Contact All Tickets for more information as groups can save cash and those comprised of 30 or more also qualify for COMP tickets. This is the best time to get the lowest prices and best offers on tickets for Matilda, the most celebrated musical that the UK has ever seen. Contact All Tickets at 800-922-0716 or through our website.