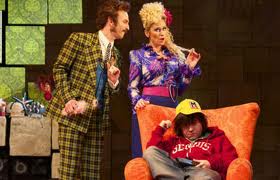 All Tickets, which is offering great group discounts on all new Broadway shows and is kicking off the season by offering a special and exclusive time-limited COMP PROMO, is taking some time today to focus on a very important issue—bullying. We're highlighting this issue as it relates to the incoming musical Matilda.
Bullying has become an important issue in schools as those being bullied for years to come can feel its effects. The bully wields their power over another person by intimidating them in various ways. Psychological and physical violence are a part of bullying. How important and devastating is bullying? The US government has an entire website focusing on bullying, including defining the activity and offering important information on how to stop it.
The Bully in Matilda The Musical
Matilda The Musical, which won seven Oliviers this year and arrives on Broadway in April 2013, is a story rife with bullying. In fact, it is the story of a young girl who is able to overcome the efforts of two major bullies in her life—her father, Mr. Wormwood, and the headmistress of her school, Miss Trunchbull.
Bullies pick on those who they see as being vulnerable and Mr. Wormwood and Miss Trunchbull understand clearly the manner in which little Matilda is vulnerable. Matilda is an extremely gifted and smart little girl who lacks the physical power and the adult authority to free herself from the grips of adults who abuse their power. When her father, who has incessantly bullied and belittled her, sends her away to school you may think there is hope. But it's clear that Miss Trunchbull, the amazon who runs that boarding school, is a massive bully.
Matilda is saved by her developing special powers, her bright mind and by someone else who had been and still is the victim of bullying—Miss Honey. Miss Honey, one of her teachers, comes to Matilda's aid, as she knows firsthand what it is like to suffer from the endless ridiculing and intimidation of a bully. (She too was abused in this manner by Miss Trunchbull, who is her aunt.)
Ghost The Musical and Bullying
All Tickets had the opportunity to create the official study guide for Ghost The Musical. We interviewed cast and creative team members, including Oscar winning screenwriter Bruce Joel Rubin who wrote the film and musical Ghost.
[vimeo vimeo.com/39122687]
Rubin provided insights into bullying and included suggestions for a writing exercise that teachers could use to help students better understand bullying. As Rubin observed, children often misunderstand bullying and they often need guidance in understanding the serious nature of its effects.
Matilda is a Jolt of Optimism
Matilda The Musical offers optimism on various levels. There's a lot of good news in this entertaining and thoroughly engaging musical. It's an uplifting show where those who are the victims of bullies triumph and it provides an important positive message for all children and especially girls.
Right now group discounts are substantial for Matilda and only All Tickets is offering COMPS to groups. Book before December 31, 2012, and for every 30 tickets purchased, you'll receive 1 COMP (up to 4 total per group per performance). For more information see our eblast or call All Tickets at 800-922-0716. We may also be messaged through the All Tickets Contact Page. Call today to get the best possible seats, group discounts and our exclusive COMP PROMO.
We are also offering COMPS for all new incoming Broadway productions, including Edward Albee's Who's Afraid of Virginia Woolf?, the musical Chaplin, David Mamet's new drama The Anarchist and the haunting musical Rebecca. Offers vary depending on the show and opening, so please call for more information on All Tickets COMP promo.