In Edward Albee's Who's Afraid of Virginia Woolf?, which is set at a New England college, new professor Nick and his wife Honey have been invited back to George and Martha's for drinks. George is a history professor who has a deep, dark past with his wife Martha, who is the college president's daughter. Comical, cutting and deeply disturbing, Who's Afraid of Virginia Woolf? touches taut nerves and unleashes turbulent emotions. This new acclaimed production premieres on Broadway this fall 50 years to the date of when it was first seen on Broadway.
Synopsis
The critically acclaimed production of Edward Albee's Who's Afraid of Virginia Woolf? that was seen this past year at Steppenwolf Theatre in Chicago and Arena Stage in Washington, DC, comes to Broadway in October 2012. Directed by Pam MacKinnon and featuring Tracy Letts, Amy Morton, Carrie Coon and Madison Dirks the story of one night in the life of two couples explodes on the stage. This riveting, witty drama is laced with comedy, filled with passion and defined by startling revelations. Who's Afraid of Virginia Woolf? is an American classic that after 50 years continues to enthrall audiences.
ORIGINAL CAST RECORDING
http://www.youtube.com/watch?v=A5SvWgeg3Cs
MAKE A CONNECTION
ATI Pintrest:
The
original cast
of Albee's Who's Afraid of Virginia Woolf?.
SHOW FACTS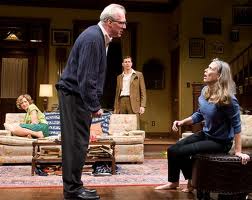 Cast
George Tracy Letts
Martha Amy Morton
Honey Carrie Coon
Nick Madison Dirks
Written by Edward Albee
Director Pam MacKinnon
Set Designer Todd Rosenthal
Costume Designer Nan Cibula
Lighting Designer Allen Lee Hughes
Sound Designer Rob Milburn and Michael Bodeen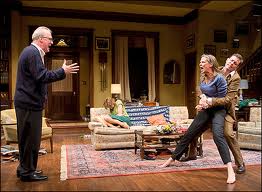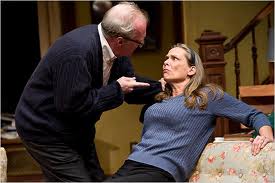 ---
For a Theatre Profile, Seating Chart and Google Map click on the theatre name.
THE BOOTH THEATRE
222 West 45th Street
New York, NY 10036
Preview: Sep. 27, 2012 Open: Oct. 13, 2012 Status: Closed Mar. 3, 2013