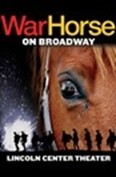 The hit London production of War Horse, which won the Olivier, Evening Standard and Critics' Circle Awards, transferred to Broadway in 2011. Based on the celebrated novel by Michael Morpurgo, this creative production of War Horse is exciting and spectacular.  The story focuses on a young man, Alan, and his horse, Joey, who is recruited into the cavalry during World War I. First Joey embarks on a journey that is thrilling and mesmerizing. Soon, the boy who cherishes him and who has decided that he cannot live without him follows his horse into the war zone. This is a play about loyalty, love and honor.
 Synopsis
Alan has become very attached to his horse, Joey. But there's a war in Europe and the cavalry needs horses like Joey to fill their ranks. Alan's horse is taken to France and first starts his adventure in service to the Allies. Soon, Joey is in the midst of the war, galloping into battle and bravely taking on enemy fire.
However, as his great adventure continues, Joey eventually finds himself on the side of the Axis, and then, after some time in their service, he is in the middle of no man's land. Completely alone, Joey must somehow survive.
Although Alan is too young to enlist, he cannot forget Joey. With unbridled determination, he decides to journey to Europe to find his beloved horse and bring him home. This is a tale of bravery, friendship and a bond that is so strong that even one of the bloodiest wars on this earth cannot break it.
The effects utilized in War Horse are truly extraordinary as actors, working with magnificent life-sized puppets created by the internationally renowned Handspring Puppet Company, propel audiences on an astounding adventure through history. This is a unique production that will thrill and move you.
WAR HORSE CLIPS
MAKE A CONNECTION
ATI Blog: How much do you know about the Tonys? Take our Tony quiz.
ATI Pintrest: War Horse is a triumph.
ATI Facebook: "LIke" us on Facebook now!
SHOW FACTS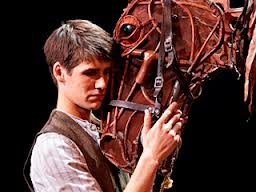 Cast
Albert Andrew Durand
Billy Narracott Stephen James Anthony
Arthur Narracott David Manis
Lt. James Nicholls Sanjit DeSilva
Rose Narracott Alyssa Bresnahan
Friedrich Muller David Lansbury
Based on the novel by Michael Morpurgo
Adapted by Nick Stafford
Director Marianne Elliott and Tom Morris
Movement and Horse Choreography Toby Sedgwick
Set and Costume Designer Rae Smith
Lighting Designer Paule Constable
Sound Designer Christopher Shutt
Puppet Designers Basil Jones and Adrian Kohler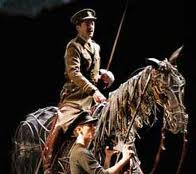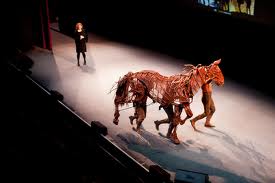 ---
For a Theatre Profile, Seating Chart and Google Map click on the theatre name.
THE VIVIAN BEAUMONT THEATRE
150 West 65th Street
New York, NY 10023
Preview: Mar. 15, 2011 Open: Apr. 14, 2011 Status: Closed Jan 6, 2013