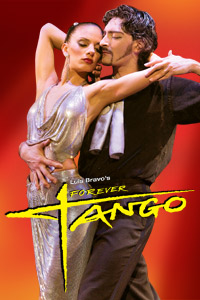 It's the hit, hot, hip dance revue Forever Tango. The Tango has long been associated with romance, power, sensuality and sophistication. Forever Tango takes that dance and showcases its complexities in an evening of total entertainment. Masterful, enthralling and enticing, you'll forever love Forever Tango
Synopsis
Forever Tango is a fluctuating state of being as told through one of the most charismatic dances ever created. The tango offers a story that is intimate and alluring. Each version of the tango has its own story to tell, as the relationship of the dancers, their bodies and energies combine to create a physical journey that viewers cannot resist.

Forever Tango takes us on a journey that starts with the birth of salsa music and dance in 19th-century Buenos Aires and ends with contemporary interpretations and modern innovations that have shaped and changed the tango. Forever Tango was first seen on Broadway in 1997 where it ran for 14 months at the Walter Kerr, earning a Tony nomination for Best Choreography.
This new production features 16 dancers and an 11-piece orchestra and a featured vocalist. Five-time Grammy Award winner Gilberto Santa Rosa will star as the first special guest star for the initial three weeks of the engagement. Future vocalist casting will be announced at a later date. After its 10-week Broadway run, Forever Tango will tour the U.S. and other countries.
TWO MINUTES OF LOUIS BRAVO'S FOREVER TANGO

MAKE A CONNECTION
ATI Blog: Read about Forever Tango. https://allticketsinc.com/?p=11776
ATI Pintrest: See Forever Tango on our Great Broadway Shows board.
ATI Facebook: Connect with us on Facebook.
SHOW FACTS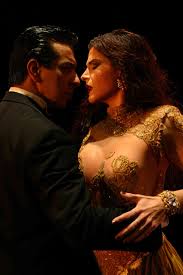 Cast & Creative
Guest Vocalist (July 9-28) Gilberto Santa Rosa
Created and Directed by Luis Bravo
---
For a Theatre Profile, Seating Chart and Google Map click on the theatre name.
The Walter Kerr Theatre
219 West 48th Street
New York, NY 10036
Preview: July 9, 2013 Open: July 14, 2013 Status: Closed, Sep. 15, 2013