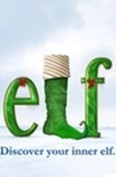 If you're looking for some holiday cheer, then you'll want to get your tickets for one of the latest offerings on Broadway—the musical Elf. Based on the popular movie that starred Will Ferrell as Buddy, a man who was raised as an elf at Santa's North Pole workshop, the story is comical, touching and appropriate for all ages. The creative team includes an array of experienced Broadway folks and the cast is loaded with great talent.
 Synopsis
In the musical Elf, Buddy, who lives at the North Pole as one of Santa's elves, is definitely out of place. When he was a young child, he accidently crawled into Santa's bag one Christmas Eve. After Santa discovered what had happened, it was decided that Buddy would be raised as an elf at the North Pole since there was no telling exactly to whom he belonged.
Now as a young man, he longs to find his roots and Santa gives him permission to take his elf ways to New York City, his land of origin. Buddy's attempt to reconnect with his birth father, who is on the naughty list, proves to be a very harsh lesson for the naïve man. And despite his best efforts and sincerest intentions, he's unable to get his wish, which is to know his real father. That is until one very special Christmas Eve.
This is a heartwarming and hilarious story that is bound to put you in the holiday spirit. Elf is for the entire family.
ENJOY ELF BROADWAY PREVIEW
MAKE A CONNECTION
ATI Blog: Read about ELF and other Broadway shows.
ATI Pintrest: Here's interesting theatre insights.
ATI Facebook: See our Facebook page and "LIke" ATI.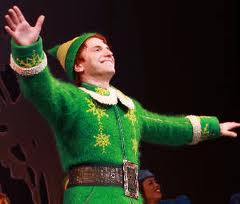 Cast
Santa Wayne Knight
Emily Beth Leavel
Walter Mark Jacoby
Store Manager Michael Mandell
Deb Valerie Wright
Mr. Greenway Adam Heller
Creative
Music  Matthew Sklar
Lyrics  Chad Beguelin
Book   Thomas Meehan and Bob Martin
Director and Choreographer  Casey Nicholaw
Set Designer  David Rockwell
Costume Designer  Gregg Barnes
Lighting Designer   Natasha Katz
Sound Designer     Peter Hylenski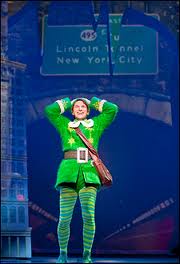 For a Theatre Profile, Seating Chart and Google Map click on the theatre name.
THE AL HIRSCHFELD THEATRE
302 West 45th Street
New York, NY 10036
Preview: Nov. 6, 2012  Open: Nov. 6, 2012 Status: Limited run, closed Jan 6, 2013