Evita is a big show about a big personality. Eva Peron was a glamorous actress with a bold and vibrant character who created a new energy that totally captivated the nation of Argentina. The original production of this musical, with its dynamic score, incisive lyrics and expansive story, ran on Broadway for close to five years, thrilling audiences with over 1,500 performances.
Synopsis
The much anticipated Broadway revival of Evita stars Ricky Martin as Che and Elena Roger as Eva. The two intriguing characters come to life in a gripping production directed by Michael Grandage and choreographed by Rob Ashford.
Eva Peron intrigued and captivated Argentina with her glamorous and engaging personality. This musical, with its expansive and ecelctic score, offers audiences an insightful interpretation of history and the clash between two forces as represented by Eva Peron and Che. Evita is back on Broadway and it's thrilling audiences again.
EVITA HIGHLIGHTS FOR YOU
MAKE A CONNECTION
Show Facts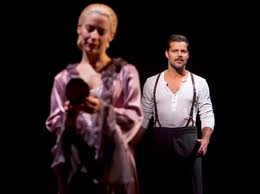 Eva Peron Elena Roger
Che Ricky Martin
Juan Peron Michael CerverisCreative
Music Andrew Lloyd Webber
Book & Lyrics  Tim Rice
Director  Michael Grandage
Choreography  Rob Ashford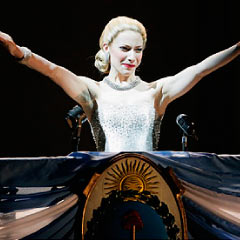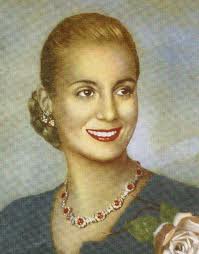 ---
For a Theatre Profile, Seating Chart and Google Map click on the theatre name. 
THE MARQUIS THEATRE
1535 Broadway
New York, NY 10036
Preview: Jan. 30, 2012  Open: Mar. 12, 2012 Status: Closed Jan. 26, 2013.