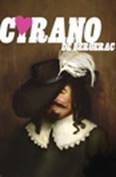 Edmund Rostand's Romantic masterpiece Cyrano de Bergerac comes to Broadway for the 2012-2013 Season. This story of a man who is a poet, soldier and wit and who has an astoundingly large probiscus is endearing. funny and bittersweet.
  Synopsis
In Cyrano de Bergerac, the title character is a man who is simultaneously brilliant with word and sword play. Cyrano is a true Romantic with a poet's heart. He loves the beautiful Roxanne but she loves another, a young cadet named Christian. But Christian cannot woo Roxanne, as he becomes completely tongue tied and exasperated when in her presence. Cyrano befriends him, penning love poems to Roxanne for Christian while expressing his true love for the women he can never possess. Wry, sweet and beautifully told, Cyrano de Bergerac is a masterpiece.
HERE'S A SPECIAL VIDEO!
MAKE A CONNECTION
ATI Blog: Read about our group discounts.
ATI Pintrest: See our Broadway show board.
ATI Facebook: See our Facebook page.
SHOW FACTS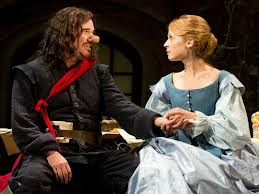 Cast
Cyrano de Bergerac Douglas Hodge
Comte de Guiche Patrick Page
Roxane Clemence Poesy
Christian Kyle Soller
Le Bret Max Baker
Ragueneau Bill Buell
Duenna/Marthe Geraldine Hughes
Creative
Written by Edmond Rostand
Director Jamie Lloyd
Set and Costume Designer Soutra Gilmour
Lighting Designer Japhy Weideman
Composer and Sound Designer Dan Moses Schreier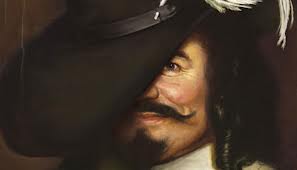 ---
For a Theatre Profile, Seating Chart and Google Map click on the theatre name.
THE AMERICAN AIRLINES THEATRE
227 West 42nd Street
New York, NY 10036
Preview: Sept 14, 2012 Open: Oct. 11, 2012 Status: Limited run