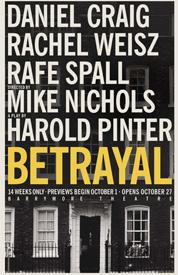 Harold Pinter's Betrayal focuses on a husband, Robert, and wife, Emma, and their friend, Jerry, a literary agent. Betrayal, which tells its story by starting at the end and working its way towards the beginning, is an intriguing tale told through dialogue, at times sparse, silences and nuanced acting. Ten-time Tony winner Mike Nichols directs Daniel Craig (Robert), Rachel Weisz (Emma) and Rafe Spall (Jerry). This looks to be an amazing production of what is a highly innovative play by one of Great Britain's most celebrated playwrights.
Synopsis
In Harold Pinter's play Betrayal, married couple Emma and Robert count Jerry as one of their best friends. So how do Jerry and Emma end up having an affair? Betrayal reveals the inside story regarding the relationships these three adults share, both knowingly and unknowingly. In this drama, which utilizes reverse chronology, Pinter provides us with a provocative portrait that reveals lives that are hollow, false and deceptive in every manner. Betrayal, which is partly based on a secret, longtime affair Pinter had, is considered to be one of his most important and accomplished works. Audiences are fascinated as they watch this story move backwards, revealing more lies in every scene and exposing the empty love that defines each character.
MAKE A CONNECTION
ATI Blog: Read more about the upcoming production of Betrayal.
ATI Pinterest: See our Betrayal pin and follow us on Pinterest.
ATI Facebook: It's a good time to visit us on Facebook.
SHOW FACTS
Cast
Robert Daniel Craig
Emma Rachel Weisz
Jerry Rafe Spall
Creative
Written by Harold Pinter
Director Mike Nichols
Set Designer Ian MacNeil
Costume Designer Ann Roth
Lighting Designer Brian MacDevitt
Sound Designer Scott Lehrer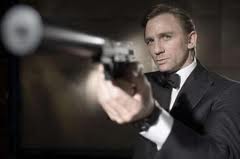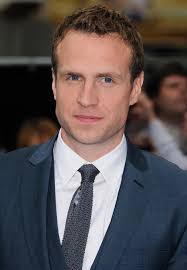 ---
For a Theatre Profile, Seating Chart and Google Map click on the theatre name.
The Ethel Barrymore Theatre
243 W 47th St
New York, NY 10036
Preview: Oct. 1, 2013 Open: Oct. 27, 2013 Status: Closed, Jan. 5, 2014. Strictly limited run.