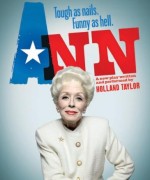 Ann is a new one-woman show by writer/actress Holland Taylor. Get to know Ann Richards, the larger-than-life governor of the biggest-of-all states Texas. Insightful, funny and moving, Ann is a wondrous historical and personal piece of theatre.
Synopsis
Ann Richards was know for being many things- witty, tough, smart and wry. She became known by the entire country as she rose to prominence in the Democratic ranks and in 1988 delivered the keynote speech at the party's national convention. It was a speech that revealed down-home humor and cutting wit. Richards served as the Texas State Treasurer from 1982-1990. In 1990, Richards was elected governor. Four years later, she was unseated by George W. Bush. Richards was a colorful, controversial figure who battled the bottle, dealt with a broken marriage and told it like it was. Holland Taylor, who has performed Ann at numerous venues including a month-long run at the Kennedy Center, offers a resonant performance.
HOLLAND TAYLOR AS ANN RICHARDS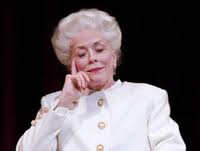 Ann Richards Holland Taylor
Author Holland Taylor
Director Benjamin Endsley Klein
Settings Michael Fagin
Costumes Julie Weiss
Lighting Matthew Richards
Sound Ken Huncovsky
Projections Zachary Borovay
Wig Designer Paul Huntley
---
For a Theatre Profile, Seating Chart and Google Map click on the theatre name.
THE VIVIAN BEAUMONT THEATRE
150 W 65th St
New York, NY 10023
Preview:  Feb. 18, 2013     Open: Mar. 7, 2013  Status: Closing Sept. 1, 2013