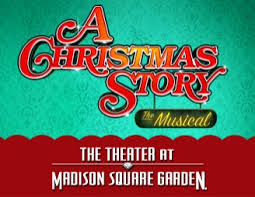 A Christmas Story, the classic Holiday musical about Ralphie, his brother, Randy, who refused to eat, his irascible dad and his caring and exasperated mom, is back in NYC for a limited engagement. The perfect musical for the Holiday Season, which was a huge hit and Tony nominated last year, is at the Theatre at Madison Square Garden. Join Ralphie and the rest of the Parker clan, bully Scut Farkus, friend Flick and the Bumpus dogs for a real treat.
 Synopsis
Ralphie dreams about his ultimate Christmas present- An Official Red Ryder Carbine-Action 200-shot Range Model Air Rifle. It is his Mecca, his Holy Grail, his Nirvana. But there are so many impediments to Ralphie attaining his ultimate Christmas dream. Will her ever get what he really wants? It's the Golden Age of Radio and Little Orphan Annie, cars with real spar tires and dads who ruled the home as if it were their castle (sort of). This is a must-see musical Christmas treat. A Christmas Story The Musical is a great group stocking stuffer for sure!
A CHRISTMAS STORY: AT LAST YEAR'S TONYS

MAKE A CONNECTION
ATI Blog: Read about A Christmas Story and other holiday shows.
ATI Pinterest: We are on Pinterest!
ATI Facebook: See what's going on with A Christmas Story and other shows and be  sure to "Like" us!
SHOW FACTS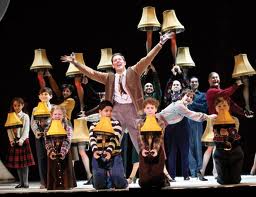 Cast
TBA
Jean Shepherd
Old Man
Randy
Mother
Miss Shields
Santa Claus 
---
Creative
Music and Lyrics Benj Pasek and Justin Paul
Book Joseph Robinette
Director John Rando
Choreographer Warren Carlyle
Set Designer Walt Spangler
Costume Designer Elizabeth Hope Clancy
Lighting Designer Howell Binkley
Sound Designer Ken Travis
Orchestrations Larry Blank
---
For a Theatre Profile, Seating Chart and Google Map click on the theatre name.
The Theatre at Madison Square Garden
Four Pennsylvania Plaza
(7th Avenue between W 31st St and W 33rd St)
New York, NY 10001
Preview:    Open: Dec 11, 2013  Status: Closed Dec. 29, 2013