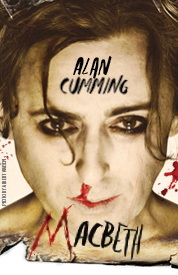 Tony winner Alan Cumming, who won Broadway's highest honor for bios portrayal of the Emcee in the revival of Cabaret, comes to the Great White Way for a one-man production of Shakespeare's Macbeth. The National Theatre of Scotland's Macbeth, which was seen at the Lincoln Center Festival last year. This unique production has Cumming playing every role and includes multimedia design elements.
Synopsis
Set in a clinical room in a psych ward, this version of Macbeth occurs in the mind of a patient. The production, which is directed by Tony winner John Tiffany (Once) and Andrew Goldberg, is richly acted and vividly produced. This lead role of Macbeth is certainly a challenge for any actor; Cumming, however, will be tested to the limit by playing every role.
Along with his celebrated interpretation if the Emcee in Cabaret, Cumming was seen on Broadway in Design For Living in 2001 and The Threepenny Opera in 2006. The actor has also earned two Emmy nominations for his work on The Good Wife (CBS) and has been seen in numerous movies, including X2, GoldenEye, Spy Kids and The Anniversary Party.
MAKE A CONNECTION
ATI Blog: Another new Broadway offering, The Testament of Mary, stars Fiona Shaw.
Pinterest: Once got director by John Tiffany a Tony.
ATI Facebook: See our Facebook page and get updates.
SHOW FACTS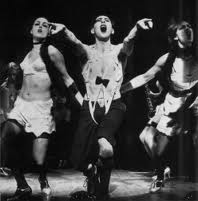 Cast
Performer Alan Cumming

Creative
Written by William Shakespeare
Directors John Tiffany and Andrew Goldberg
Set and Costume Designer Merle Hensel
Lighting Designer Natasha Chivers
Sound Designer Fergus O'Hare
Projection Designer Ian William Galloway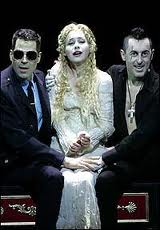 ---
For a Theatre Profile, Seating Chart and Google Map click on the theatre name.
The Ethel Barrymore Theatre
243 West 47th Street
New York, NY 10036
Preview: Apr. 7, 2013 Open: Apr. 21, 2013 Status: Open, limited run closing July 14, 2013