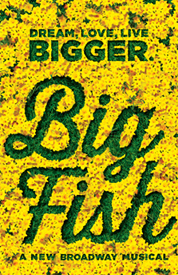 Big Fish, the story of a father who tells tale tales about his life and his son who wants to know who his dad really is, comes to Broadway as a musical. Composer/lyricist Andrew Lippa and book writer John August, who wrote the screenplay for the film Big Fish, team up with five-time Tony winning director/choreographer Susan Stroman to create this fantasy musical for Broadway.
Synopsis
Big Fish is a Broadway musical fish story of sorts that's set in the U.S. South. Edward Bloom offers unique insights into his life as he recounts his various amazing exploits. The tall tales that are told by the engaging dad are a source of frustration to his son, Will. Will simply and plainly desires to know exactly who his father really is. The musical Big Fish is about family, fantasy and fathers and sons.
The cast of Big Fish includes Norbert Leo Butz as the dad, Edward Bloom. Butz, a two-time Tony-winner on Broadway, will be joined by Bobby Steggert, playing his son Will, and Kate Baldwin, playing his wife Sandra. Director/choreographer Susan Stroman brings the musical to life on the Broadway stage at the Neil Simon. The cast numbers 27! Big Fish is a big Broadway musical.
MAKE A CONNECTION
ATI Blog: You can read more about the Broadway musical Big Fish.
Pinterest: Composer Andrew Lippa earned a Tony nomination for his Broadway show The Addams Family.
ATI Facebook: Yes we are on Facebook. Go there now!
SHOW FACTS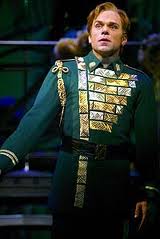 Cast
Edward Bloom Norbert Leo Butz
Will Bloom Bobby Steggert
Sandra Bloom Kate Baldwin
Josephine Bloom Krystal Joy Brown
Young Will Zachary Unger

Creative
Music and Lyrics Andrew Lippa
Book John August
Director and Choreographer Susan Stroman
Based on the novel by Daniel Wallace
Set Designer Julian Crouch
Lighting Designer Donald Holder
Costume Designer William Ivey Long
Sound Designer Jon Weston
---
For a Theatre Profile, Seating Chart and Google Map click on the theatre name.
The Neil Simon Theatre
250 West 52nd Street
New York, NY
Preview: Sep. 5, 2013  Open: Oct. 6, 2013  Status: Closed, Dec 29, 2013