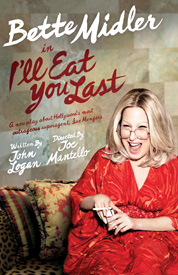 The one-woman show I'll Eat You Last: A Chat With Sue Mengers brings Bette Midler back to Broadway. Midler plays '70s superagent Mengers in a play that brings the amazing woman to life. Mengers was smart, determined and charming and managed to rise from nothing to the pinnacle of success. It's the Divine Miss M as another Divine Miss M.
Synopsis
Bette Midler plays agent to the biggest stars Sue Mengers in I'll Eat You Last by John Logan. Mengers, a refugee from Adolf Hitler's Germany, came to the U.S., managed to work past poverty and became a top Hollywood agent who was coveted by the biggest names in entertainment. Plus, her parties made an invite to Mengers' home a premium Hollywood ticket.
In I'll Eat You Last: A Chat With Sue Mengers, Midler creates the super agent using her amazing energy, skilled acting technique and resonant personality. It's been more than 30 years since Midler appeared on Broadway and this show, directed by Joe Mantello and written by Tony-winner John Logan, looks to be a hot ticket.
MAKE A CONNECTION
ATI Blog: Find more hot shows and great deals on our Buzz Stream.
ATI Pinterest: See our Broadway and theatre pins on Pinterest.
ATI Facebook: You can "like" All Tickets Inc. now.
SHOW FACTS
Cast
Sue Mengers Bette Midler

Creative
Written by John Logan
Director Joe Mantello
---

For a Theatre Profile, Seating Chart and Google Map click on the theatre name.
THEATRE TBA
Preview: Apr. 5, 2013  Open: Apr. 24, 2013  Status: Closed June 30, 2013