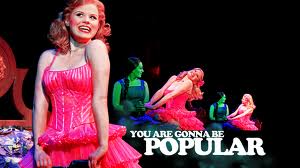 Broadway group tickets for you and "your little dog too" to the musical Wicked should be on your list of New Year's resolutions. It was announced yesterday, that Wicked became the first Broadway show to gross more than $3 million in one week.
A Decade on Broadway
Wicked, which has been on The Great White Way and entertaining Broadway groups for more than a decade, is 11th on the long-run list and, of active show, it is fifth. This past week, for the Christmas holiday week ending December 29, 2013, it grossed $3,201,333.
Last year, Wicked set a new mark for weeklong sales, grossing $2,947,142 for the week ending December 30, 2012. Previously, Spider-Man Turn Off the Dark had set the mark at $2,941,794. That was for the week ending January 1, 2102.
High Ticket Prices
It's no secret that one reason shows break box office records during the holidays is due to increased premium ticket prices. Broadway group prices, which can save you up to 45% on a ticket, allow for more ticket sales but less revenue. The holiday season over the past few years has seen a big jump in box office receipts due to higher prices, as well as an interest in the public to celebrate the time of the year by doing something special such as attending a Broadway show.
The Backstory to Oz
Wicked is the musical by Stephen Schwartz and Winnie Holzman that tells the story of how two of the most famous witches ever, Glinda and Elphaba, started out as friends and went on to become, respectively, the Good Witch and the Wicked Witch.
Since its New York premiere more than 10 years ago, the musical Wicked has grossed over $3.2 billion around the globe. Over 39 million patrons have seen this mega-hit musical, which has toured to more than 100 cities and 13 countries, including Canada, England, Ireland, Japan, Germany, Holland, Australian, New Zealand, Singapore, South Korea, The Philippines, and Mexico. It has been translated into Japanese, German, Dutch, Spanish and Korean.
Current Cast
The current Broadway cast of Wicked includes Lindsay Mendez as Elphaba, Alli Mauzey as Glinda, Carol Kane as Madame Morrible, Tom McGowan as The Wizard, Kyle Dean Masseyas Fiyero, Catherine Charlebois as Nessarose, John Schiappa as Dr. Dillamond and Michael Wartella as Boq.
Get Broadway Group Deals
Contact All Tickets' Broadway group sales agents for great discounts on this still popular musical that features great music by Stephen Schwartz, a lovely book by Winnie Holzman, fantastic special effects, and a talented and skilled cast. Wicked is still a major Broadway hit and a spectacular evening in the theatre.
Along with securing the best group prices and seats to Wicked, All Tickets can also save your Broadway group extra money on meals, hotel accommodations, and everything New York. Contact us at 1-800-922-0716 for special deals and extra savings on Wicked and all Broadway and Off-Broadway shows. We offer New York's total group experience each and every day.