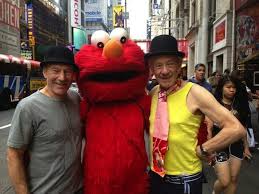 What do Broadway stars Ian McKellen and Patrick Stewart have in common with Sesame Street's Elmo? Believe or not, it's Waiting for Godot! That's right. Mckellen and Stewart donned their Absurdist togs and had a photo op in Times Square with one of the most lovable read heads in the business, Elmo.
Waiting for Elmo
It was on Monsterpiece theatre, hosted by Cookie Monster, that Sesame Street offered a takeoff on Waiting for Godot, entitled Waiting for Elmo. In the sendup, Alistair Cookie (a.k.a. Cookie Monster) introduces Waiting for Elmo as a modern classic, noting that it has to be a modern classic because it is "so classic and so modern that it makes absolutely no sense."
The scene opens with two monsters, Telly Monster and Grover, standing at a tree in barren wasteland with the wind howling and waiting for Elmo to show up and play with them. In a few minutes, they go through a range of emotions that include optimism, fear, sadness, and hope. The surprise ending is hilarious and includes a reference to one of the most popular Broadway show ever written. The camera finds Alistair Cookie who acknowledges that Waiting for Elmo is "deep, deep stuff." It's a fantastic spoof. Check it out!
Vagabond Clowns Wait for…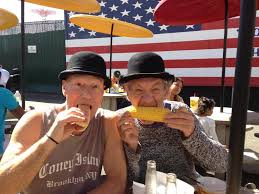 In Beckett's tragicomedy Waiting for Godot, two vagabond clowns, Vladimir (Stewart) and Estragon (McKellen) spend their time hoping that some fellow named Godot will show up. Here's something to wonder about, is Elmo REALLY Godot? Did they actually find Godot in Times Square the other day? Is it possible that Waiting for Elmo, that whimsical spoof, is actually the Rosetta Stone for insights into the identify of Godot?
Absurdity Redefined
If that is the case, then you could say that Sesame Street in creating Waiting for Elmo and the recent meeting of Vladimir, Estragon, and Elmo (Godot) in Times Square, where the world meets, has defined absurdity. Absurdists consider if life has no meaning. But now that Godot has been found in the guise of Elmo, perhaps that theory has been debunked. Certainly one thing is true, McKellen, Stewart, and Elmo all seem to give meaning to the lives of those who enjoy their work.
Tough Ticket
McKellen and Stewart in Waiting for Godot and also No man's Land on Broadway are both hot tickets. Contact All Tickets Inc. at 1-800-922-0716 and our Broadway group sales agents will work to get you the best seats possible to the Broadway show of your choice. All Tickets offers you New York's Total Group Experience. To see what other stars are coming to Broadway, click here to be connected to our latest newsletter. Remember, All Tickets can connect your group with great hotels, restaurants, sites, museums, experiences and shows. Our professional, personable group sales agents will help you create a wonderful group trip while saving you up to 45% on Broadway and Off-Broadway musicals and plays and getting you great discounts on everything New York.