By now, we've all heard the Hamilton jokes. While watching the Tony Awards this Sunday, you should "take a shot every time Hamilton wins." If you don't have to get up for work the following Monday, maybe you will attempt this. But what about all of the other musical theatre moguls who deserve to be recognized for their performances this year?
On June 12th at 8pm, I'll be settling down with some of my favorite local theatre friends to watch the awards. We'll cry watching live performances, laugh as host James Corden makes jokes, and get aggravated with the friends who disagree with our picks to win. Starting with Best Direction of a Musical :
Sure, Hamilton seems likely to win, but what about Spring Awakening? Directed by Michael Arden, the original Quasimodo in The Hunchback of Notre Dame musical, this production featured actors using American Sign Language. The addition of actors who are deaf and hard of hearing brought on new meaning for the show. Surely they must have a chance!
Best Costume Design
While Hamilton seems likely to win, Shuffle Along had some fabulous 1920s costumes of vibrant colors and flapper styles. Audra McDonald looked incredible in bright purple and pant suits. However, Audra's clothes will have to trump Paul Tazewell's designs for the revolutionary hoop skirts and red coats.
Best Actress in a Musical
While Hamilton has Renee Elise Goldsberry and Phillipa Soo as their featured and leading women nominations (and they will probably win), what about Cynthia Erivo in The Color Purple or Jane Krakowski for She Loves Me ? The Color Purple, though it didn't win for Best Musical originally, Erivo did just win the drama desk award for Outstanding Actress in a Musical! Jane Krakowski has caused lots of laughter with She Loves Me and received some rave reviews!
Best Actor in a Musical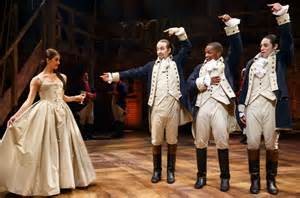 With three men from Hamilton up for Best Featured Actor and two from other musicals, it seems clear that Hamilton will take the win. Then there's Lin-Manuel and Leslie Odom, Jr. in line for Best Leading Actor. These two friends and Hamilton powerhouses are the talk of the Tonys. In my belief, Leslie Odom, Jr. and Daveed Diggs are taking home the awards. I'm not even going to suggest another show will win this one.
Best Musical
Hamilton.
What do you think will happen this Sunday? Share your thoughts with us on Twitter!