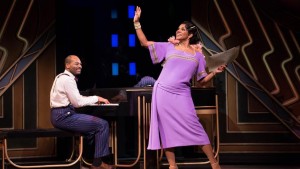 Audra McDonald is arguably one of the greatest and most versatile performers in the world today. Her history of winning Tony awards began only a year after she graduated from Juilliard. She has originated some incredible musical roles, roles in television, and she performs live at various events throughout the year around the globe. She has been asked to sing at the request of President Obama, has been cast in Broadway productions of Shakespeare, and most recently won the Tony Award for Best Performance by a Leading Actress in a Play for her portrayal of Billie Holiday. Audra McDonald returned back to Broadway this spring in a production called Shuffle Along or The Making of the Musical Sensation of 1921 and All That Followed.
A Really Long Title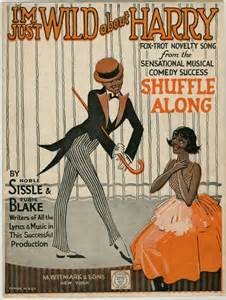 The musical starring MacDonald, Brian Stokes Mitchell, Billy Porter, Brandon Victor Dixon, and Joshua Henry began previews on March 15th. It is billed as a revival for the 1921 musical Shuffle Along that made waves on Broadway concerning African American performers. The plot concerns two men, Steve and Sam, both running for mayor of Jimtown, USA. Themes of the production include untrustworthy politicians, comic fights, and minstrel show stereotypes. Audiences loved the jazzy music and the satirical book, though it still received much criticism from the press. Even after the harsh climb to perform this piece at all, the struggles of the original producers paved the way for African American performers on the Great White Way.
Though this revival is set upon the plot of the original production of Shuffle Along, the second half of the title explains what the writers and producers are trying to do with the plot:
"The year is 1921, and the jazzy musical Shuffle Along limps its way into New York. Its pre-Broadway run had been a financial disaster, leaving the show thousands of dollars in the red and it doesn't seem that Depression struck Broadway audiences will have either the money or the inclination to seek out this all-black cast musical. All in all, the creators expectations are not high…But remarkably, they are proved very wrong! This is the story of how Shuffle Along defied the odds to become a blockbuster hit and rewrote the rulebook when it came to black musical theatre in the process. The show centers on 1920's singer Lottie Gee (McDonald), who starred alongside future icons Josephine Baker and Paul Robeson" (New York City Theatre).
See the Preview!
This show comes at a great time with the issue of the Oscars boycott for multicultural inclusion in American entertainment. Audra McDonald will be a great actress to carry that message but make sure you see the show before July 25th! She is going on a sabbatical from the production for another engagement and will return again in September.