The other day we offered a quiz regarding the Tonys. There were 10 questions. Now we offer the answers. How well did you do? (That is without using Google or any other reference.)
Answers to Our Tony Quiz
If you got all 10 correct, you're a Master Thespian of Tony Trivia, 9 gives you the title of Semi-Master, 8 means you're a Sub-Master and 7 makes you Less-than-Masterful. Six or fewer right and you need some Tony tutoring.
Question 1
Our first question had to do with the first two years of the Tonys. There were no trophies or medallions given out in those initial years. What did people receive? No, they did not get a gift certificate to Sardis.
They may have received a handshake. But the official awards were a scroll and a cigarette lighter, plus money clip for men and a compact for the ladies. (Winners did not receive a framed picture of Antoinette Perry.)
Question 2
Our second question asked how Many Tonys did Oklahoma! receive? The answer was ZERO. What musical beat out Oklahoma!? No musical did. History banished the first production of the Rodgers and Hammerstein musical from winning. Oklahoma! Opened in 1943. The first Tonys were awarded in 1947.
Question 3
It's no secret how many Tonys Harold Prince has won. He's been awarded 21 Antoinette Perry Awards. Prince has won eight for directing, eight for producing,
two as producer of the year's Best Musical and three special awards. The Prince of Broadway, the musical celebrating his career, is projected to open on The Great White Way sometime in the Fall of 2013.
Question 4
Our question for Death of a Salesman now has a new answer. We asked how many times combined had Death of a Salesman won for Best Play and Best Revival? The old answer was three. After the other night, it is now FOUR! WOW!
Question 5 & 6
We offered two questions regarding The Sound of Music, which was Rodgers and Hammerstein's' final musical as a writing team. As we noted, in 1960 The Sound of Music was a big winner. The children in the show were all nominated and won. They won as a group for Best Featured Actress in a Musical.
Question 7
Also, that same year there was a tie for Outstanding Musical. The Sound of Music tied with Fiorello! The other answers, Gypsy, Once Upon a Mattress and Take Me Along, were all nominated. (Ah, the good old days, when there were enough shows on Broadway to have five nominations in each category and not the present four.
Question 8
The play that holds the record for most Tonys in one year is The Coast of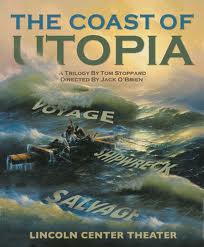 Utopia by Tom Stoppard. The performer who has the most wins (5) and most nominations (10) is Julie Harris. By the way, Audra McDonald tied her for most wins with her award for The Gershwins' Porgy and Bess. Special note: Harris holds five for plays and Angela Lansbury five for musicals. McDonald holds three for musicals and two for plays and has been nominated seven times. Don't look back, Julie, someone is gaining on you!
Question 9
So, what do Anne Bancroft, Yul Brynner, Shirley Booth and Paul Scofield all have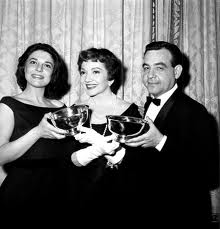 in common? This one was easy. Each won the Tony and Oscar for the same role. Bancroft won for The Miracle Worker, Brynner for The King and I, Booth for Come Back Little Sheba, and Scofield for A Man for All Seasons.
Question 10
And our final question, like our question regarding Death of a Salesman, is now out of date. What actress had won four Tonys as a Featured Actress, two for plays and two for musicals? It was Audra McDonald. Now she has five.
Legends on Stage
There are legends performing live on stage right now and legends in the making. Call All Tickets to inquire regarding group discounts for Broadway and Off-Broadway shows. We offer a range of free publications including guides for restaurants, sites and attractions and tours around New York. See our website for more information or call us at 800-922-0716.