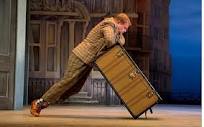 There's great news about the Tony winners—you can see the work of every one of them as those who won are still running on The Great White Way. All Tickets Inc., which offers groups THE TOTAL NEW YORK EXPERIENCE, has group discounts for these great shows. And by the way, a lot of extremely fine shows were nominated and did not win and there are also excellent performances and shows that were not recognized at all.
Once The Big Winner
The musical Once, which is based on the indie film of the same title, took home eight Tonys, including Best Lead Actor in a Musical (Steve Kazee), Best Musical, Best Book for a Musical and Best Direction (John Tiffany). Once, which we profiled in an earlier Tony blog, has passion, romance and love; it's a genuine piece that's defined by fine performances and story that is expertly told. Be sure to see it.
Death of a Salesman Wins Again
In our last blog, we highlighted Death of a Salesman just after it nailed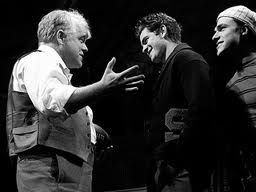 down the Tonys this year for Best Revival of a Play and Best Director of a Play (Mike Nichols). The cast is exceptional and the play, which is now 63 years old, is still moving, mesmerizing and powerful. Death of a Salesman is the only show to win four Tonys as the best—one when it premiered and now for three revivals. It's a classic through and through.
Clybourne Park Takes Home the Tony
Bruce Norris' Pulitzer Prize winning satire Clybourne Park won for Best Play. This is an insightful, entertaining show about race relations. The cast is excellent and director Pam MacKinnon, who was nominated, has orchestrated the evening in an exceptional manner, making this play flow with ease.
Great Performances
There were some surprises in this category as newcomer James Corden won the Best Actor award for his brilliant comedic performance in the British import One Man, Two Guvnors. This is a hilarious show as Corden's character tries to sustain a virtual balancing act between two crooks and a range of growing complications and obstacles. See him!
Venus in Fur's Nina Arianda earned the award for Best Lead Actress in a Play. Arianda offers an alluring and hypnotic performance in this very seductive show. The two-character play, written by David Ives, is clever with power constantly shifting between the two characters.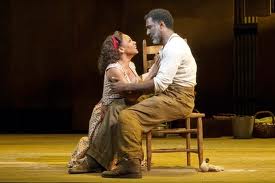 As already noted, Kazee won for best lead in a musical, while Audra MacDonald did it again, winning her fifth Tony. This time it was for Bess in The Gershwin's Porgy and Bess. McDonald is a charismatic performer who seems able to play just about anything. The show also won for Best Musical Revival.
Peter and the Starcatcher
The high energy, beautifully designed and directed Peter and the Starcatcher, which earned nine nominations, won five awards, including Christian Borie as Best Actor in a Featured Role in a Play. This show, which includes a Tony-nominated score, is great for older kids and adults. If you don't know, it's the story of how Peter Pan grew up to never grow up. See our earlier blog on Peter and the Starcatcher.
Other Winners
There were a host of other winners last night, including Judith Light for her featured performance in Other Desert Cities and Michael McGrath and Judy Kaye for their featured roles in the musical Nice Work if You Can Get It. Newsies won for Best Original Score and also for orchestrations.
Tony Winners Galore and More
It's a good sign that the competition was tough in that no one musical or play swept the night. Once dominated in some ways, but others managed to capture their share of the night's trophies.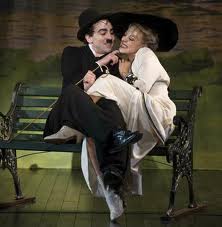 Along with these celebrated Tony winners and nominees, Broadway also has numerous shows coming in, including the new musicals Bring It On, Chaplin and Rebecca and revivals of Annie and Who's Afraid of Virginia Woolf?. Contact All Tickets Inc. at 800-922-0716 for our COMP PROMO special on these incoming shows and for tickets to any and all shows presently running. We also offer special discounts on attractions, restaurants and accommodations.