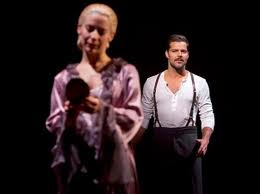 All Tickets is taking time all this week to preview the Tonys, which will be held June 10th. Yesterday, we looked at the Best Play and Best Musical categories. Today's blog focuses Best Revival of a Play and also Best Revival of a Musical. This year's nominees are about as dynamic and heavy as you can get. There's not a comedy amongst them, which may simply say that it was a very serious season of revivals on The Great White Way.
Best Revival of a Play
Of the four nominees, two are still on the boards. Arthur Miller's Death of a Salesman and Gore Vidal's The Best Man, both of which feature all-star casts. Master Class by Terrence McNally, which starred Tyne Daly, and Wit by Margret Edson, which starred Cynthia Nixon (nominated), have both closed.

This is a very interesting category this year. There's a lot to be said for Death of a Salesman with Phillip Seymour Hoffman and yet still Vidal's The Best Man is not only timely but it offers a premium cast lead by James Earl Jones (also nominated). Of course, the award is for the revival and not simply the script. That may give The Best Man the edge in this horserace. (Although I think Edson's Wit is brilliant.)
Best Revival of a Musical
Andrew Lloyd Webber's work holds half the nominations in this category as both Evita and Jesus Christ Superstar have garnered the attention of the Tonys. Sondheim's Follies and the Gershwins' Porgy and Bess got the other two nods.
Follies was a very fine production and Evita is being given a solid interpretation. Jesus Christ Superstar brings a symmetrical production to the stage. Porgy and Bess has legs this season and with a revitalized book and reimagined production has managed to attract a lot of attention. Audra McDonald's performance doesn't hurt this show's chances. This seems to be the standout show. But that's only one person's opinion.
New Shows On Tap
There are some very exciting new shows making their way to Broadway, including the musicals Bring It On, Chaplin and Rebecca. Plus, there's the upcoming revival of Who's Afraid of Virginia Woolf? and the Annie revival directed by James Lapine.
Remember that All Tickets Inc. is offering a special COMP PROMO for all incoming Broadway shows we recently posted in our latest newsletter and Chaplin includes an extra incentive. Please call us at 800-922-0716 for more information on these deals, volume discounts and more.