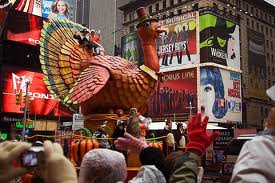 In "There's No Business Like Show Business" ("Annie Get Your Gun"), the inimitable Irving Berlin wrote "Even with a turkey that you know will fold/You may be stranded out in the cold/Still you wouldn't change it for a sack of gold/Let's go on with the show." A turkey in show business and on Broadway is a bad show. Hence every performer at some point in their career when asked the question, "How's that show you're rehearsing?" has answered, "Nah, it's a real turkey."
Macy's Turkey Lone Broadway Bird
This year the Macy's Turkey is the only Broadway bird we're expecting to see. It shows up with all of the great floats, humungous balloons, Broadway performers and stars and bands (and don't forget Santa) to celebrate America's day of thanks and to kickoff the Holiday Season.
Holiday Shows to See with COMPS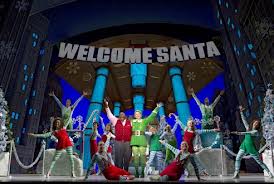 All Tickets Inc. COMP Promo, which offers groups 1 COMP per 30 paid tickets, for any Broadway show booked by December 31, 2012, includes shows great holiday shows like "A Christmas Story," "Elf," and "Annie." Of course, all other Broadway shows are a part of this offer too. Get one complimentary ticket for every 30 purchased up to 4 comps for 120 tickets per group per performance.
Broadway Long Runs
"The Phantom of the Opera," "Chicago" and "The Lion King," all of which are enjoying long runs on the Great White Way, are included in our COMP Promo. "Phantom," the longest running show in Broadway history, is still an amazing piece of theatre and "Chicago," which is the longest running American show on Broadway, now has Billy Ray Cyrus as Billy Flynn. "The Lion King" is a wonderful musical celebrating hope, diversity and courage.
Backstory Shows
You can see two of the finest backstory shows to ever play on Broadway—"Wicked" and "Peter and the Starcatcher" utilizing our COMP Promo. The musical "Wicked" tells the tale of the two most famous witches from "The Wizard of Oz." The high energy and highly imaginative "Peter and the Starcatcher," which is a favorite of two famous Peter Pans, Sandy Duncan and Cathy Rigby, continues its successful run after capturing numerous Tonys in 2012. How did Peter Pan become the boy who would "never grow up?" It's a fantastic story!
Upcoming Shows Included
Remember that all upcoming shows are included in our special COMP offer, including three of the most anticipated Broadway premieres of the season, "Cinderella," "Motown" and "Matilda." These three musicals will be on Broadway in the winter/spring of 2013.
Happy Thanksgiving!
Remember that every Broadway show is a part of All Tickets' COMP Promo, which is running until December 31, 2012. Also, if any show has Producer's Comps, you'll also get those. But this deal is ONLY through All Tickets.
Have a wonderful, safe and happy Thanksgiving. The staff at All Tickets Inc. will be celebrating with their family and friends and looking forward to enjoying some wonderful theatre throughout the Holiday Season. It's a great time to connect and reconnect with your loved ones. Enjoy your turkey!