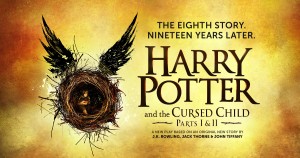 Harry Potter and all the events around the franchise really shaped my childhood. My whole family would make plans to attend midnight book release parties at Barnes and Noble and we would meet up at the movie theatres every time to see Hollywood try to take on the characters well loved. The newest installment in Rowling's neverending story is coming to Broadway from the West End where Harry Potter and the Cursed Child has been a sold out hit!
In Previews: Opening April 22nd!
Harry Potter and The Cursed Child is currently in previews and opens April 22nd at the Lyric Theatre. It is the eighth installment to the Harry Potter saga about the boy who lived, grew up to defeat the Dark Lord Voldemort, and saved the wizarding world. In this installment, we see older versions of Harry, Ron, Hermione, and other notable characters. We also see the children of our triumvirate including Harry's son, Albus Potter, who must deal with the unwanted legacy of his father. As the show synopsis says: "As past and present fuse ominously, both father and son learn the uncomfortable truth: sometimes, darkness comes from unexpected places."
The Story That Lived
I have to admit that I wasn't a big fan of the book when it was released. For whatever reason, I didn't think the stage directions and character dialogue matched what I knew from the original series. It felt like a fanfiction version of the story…and maybe partly because the show's main conceiver is not J.K Rowling at all. Playwright Jack Thorne used ideas from Rowling to create the work.
Despite my beliefs about the book, the production has received some incredible reviews. TIME Magazine reviewed the production after its opening night on the West End and stated: "…this is a story that feels made for the stage. Yes, it's packed with effects as characters cast spells, fly and even transform, achieved through old school stagecraft rather than digital trickery."
Even though I was skeptical about the book, I have to admit that I have a "blow my savings" attitude about seeing the production in NYC. If I had tickets, I would be there in a heartbeat in a cape and a big old sorting hat right next to my mom who would be dressed the same way!
Will you be reliving your childhood by going to see Harry Potter and the Cursed Child? Let us know on Twitter @AllTicketsInc!