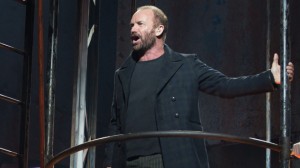 Sting's a big hit in his own Broadway show, The Last Ship. The musical has received good reviews but ticket sales have been slow. Part of the reason for The Last Ship's difficulty in attracting audiences has to do with the time of year. The musical is a serious show. It is not a musical comedy and it is not a holiday or family show, which are the type that tend to do well this time of year. Yet, it is an extraordinary production and musical, and audiences are loving it.
Take That!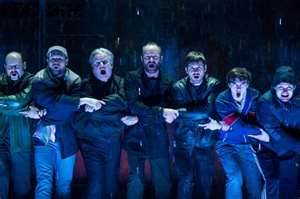 Sting surmised the whole situation of being put into a Broadway show nicely when he noted that after just two rehearsals and then having to perform in front of an audience was like being "thrown down an elevator shaft." He humorously, but also accurately noted, "I kept thinking, 'What's the next song? What do I have to say next? What am I wearing?'"
It's not an uncommon experience for replacements on Broadway who get a total of two rehearsals before appearing in the show. The good news is that there were no major snafus and Sting was delighted to have even gotten some laughs. Even more delightful was the boost in box office sales.
High Tide for The Last Ship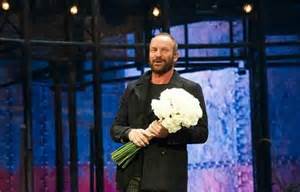 Sting joined the company on stage on December 9. The sales for that week were 66% higher than the week before, climbing to $817,897. The average size house at the 1,350-seat Neil Simon Theatre was 77%. Although the producers of the musical would like to see a few more seats sold, the upswing was enough to have Sting commit to two more weeks of performances. That means that the rock star will be in the show until January 24th, which takes him through the highly profitable holiday season and partly into the post-holiday doldrums when ticket sales traditionally lag.
Inspirational Story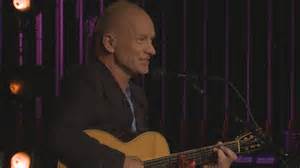 The Last Ship is the story of Gideon Fletcher. As a young man, he dreamed of leaving his small shipbuilding and seafaring town of Wallsend for more interesting places. He did just that. Abandoning all, including his beautiful girlfriend and simple life, he discovered a new world.
After 14 years, he returns to Wallsend and finds his childhood sweetheart is engaged to another man and that his hometown is in distress. Wallsend, which has been known for building majestic ships that dominate the high seas, is about to lose its identity and soul and the hardworking people their livelihood, as the shipbuilding enterprise is to be shut down.
The men who have labored for the shipbuilding company resolve the engage in an act of solidarity and create a great monument, a towering and emblematic representation of the magnificent vessels they've created for generations. And Gideon, in coming home, realizes that when he left the small town of Wallsend that he lost more than he ever could have imagined. It is an uplifting and inspirational story.
See Sting!
If you have a group of 15 or more, you can save 30% to 40% per ticket on The Last Ship and see Sting perform on Broadway. All Tickets Inc. is taking orders for this highly theatrical and inspiring musical. Contact us today at 1-800-922-0716 or by clicking here.