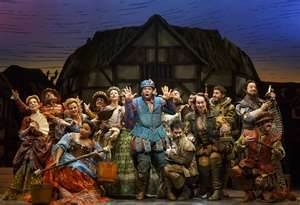 Something Rotten!, which has been nominated for 10 Tonys and is part of All Tickets' Best Broadway Group Comp program, is a riotous musical comedy. How funny is it? It's got everything from broad slapstick to tongue-in-cheek humor to anachronistic references to tomfoolery (that last is not a character, it's about being silly). Set during the English Renaissance it's about the ersatz birth of musical comedy during a time when Shakespeare ruled the stage and England the seas.
Here are a few clips from Something Rotten!
Something Rotten Videos

Welcome to the Renaissance as performed when the show was in rehearsal

Getting in Character- How does one become the Bard?

Shakespeare in the House- It's good to be the leading dramatist (maybe).

A clip from the production Something Rotten!
Get Comps from All Tickets, Inc.
If you purchase your group discount tickets from All Tickets, Inc. you can get free tickets to the show too. All Tickets, Inc. is offering 1 free ticket for every 30 purchased or 1 free ticket for every 25 paid (if you also purchase another product, experience, service from us). This offer, which ends August 31, 2015, is exclusive to All Tickets, Inc.
Contact All Tickets, Inc. for great seats to a great show, Something Rotten! Plus, we can get you group tickets for any Broadway show. Our comp deal applies to all Broadway productions currently running or upcoming as long as you book your tickets by August 31, 2015. Call is today at 1-800-922-0716 or use our contact form.