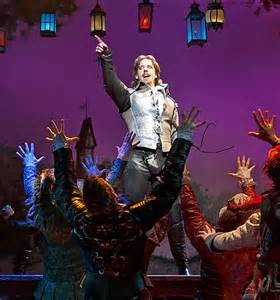 Something Rotten!, which has been nominated for 10 Tonys, is anything but the name suggests, rotten. The name comes from a famous line in Hamlet, which is "Something is rotten in the state of Denmark," It's said by Marcellus to Horatio, and it is about how Claudius has allowed the country to become corrupt.
In the case of the musical comedy, Something Rotten!, that title refers to one of the final numbers during which the theatre company prepares for opening night of Omelette: The Musical. The show Something Rotten! is a madcap takeoff on the age of Shakespeare, musical theatre, and Shakespearean literature.
Reviews
The reviews for Something Rotten! when it opened in April were enthusiastic. Many of those who commented on the show love the music and lyrics, the show's unbridled comedy, and it's wonderful performances.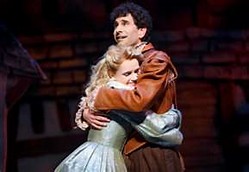 Mark Kennedy of the Associated Press wrote, "Something Rotten!…is fresh and hysterical and irreverent. It's easily the funniest thing to arrive on Broadway since The Book of Mormon…the song A Musical, in which the writers get to goof on such shows as Rent, Pippin, Les Miserables, On the Town, Annie and the Rockettes. It's one of the highlights of a show that is full of them, all led by director Casey Nicholaw at his exuberant, daffy best…A stunningly good first act…invariably leads to a somewhat weaker second act, but that's still better than most entire musicals on Broadway right now…."
In the Hollywood Reporter, David Rooney observed, "This is a big, brash meta-musical studiously fashioned in the mold of Monty Python's Spamalot, The Producers and The Book of Mormon, loaded with crowd-pleasing showstoppers, deliciously puerile gags and an infectious love of the form it so playfully skewers…If the songs themselves are standard-issue show-tunes, they are elevated by dynamic staging and performances. Nicholaw can spin froth into a full-bodied confection, even if this one cries out for something more substantial at the finish."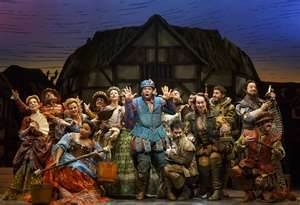 Elysa Gardner of USA Today said, "Happily, the director/choreographer is Casey Nicholaw, whose distinctly joyful irreverence…is just what's needed here…The talented players are key. Brian d'Arcy James buoyantly returns to Broadway as Nick…Nick prefigures certain skeptical scholars in believing that Shakespeare's invention is not always truly his own. Certainly, as played by a devilishly funny Christian Borle, this Will's a slippery fellow…Nigel, played by John Cariani — giving a relatively subdued performance, in which tenderness and goofiness are relayed with endearing understatement — is actually the more inspired of the siblings…Even if you haven't brushed up on your Shakespeare recently — or your musical theater — you'll find plenty that's amusing, if little that's memorable, in Something Rotten!"
Feeling Silly ,See It and Get Comps!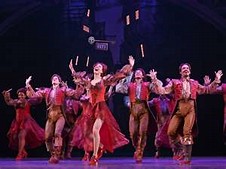 Right now All Tickets, Inc. is running its Best Broadway Group Comp Deal. Just purchase your group discount tickets to any Broadway show by August 31, 2015, and you will receive a free ticket for every 30 purchased. There's no limit on comps and they can be for any performance. And, yes, this does include group discount tickets for the hit musical Something Rotten!.
Also, if you purchase your tickets through All Tickets, Inc. and also buy another service, product, or experience, such as a Step On Tour, restaurant visit, hotel rooms, museum tour, etc., you will receive one free ticket for every 25 purchased.
Get group discount tickets plus comps, see Something Rotten!, have a great time, book a wonderful meal (at a group discount), and enjoy all of the savings. Group discounts for Broadway shows save ticket buyers from 20 to 45-percent and can be as low as $42/ticket.
Contact All Tickets, Inc. today at 1-800-922-0716 to see Something Rotten! and save.